"A delectable and easy Tea Loaf with aromatic and fruity flavours! The beauty of these British and Irish style Tea Loaves or Brack, is that they are nearly always fat-free, making them a tasty snack to have with an afternoon cuppa, and without the guilt! I have added ginger for a subtle kick, and I have discovered that if you soak your fruit in Darjeeling tea, it lends a wonderful flavour to the fruit, you can use any tea of your choice however. Remember to start this Tea Loaf off the night before you wish to bake it, as the fruit steeps in the tea overnight, making them plump and moist. This Tea Loaf freezes well (in slices) and it will stay fresh for a week in an airtight tin. NB: A note on ingredient conversions to US cups; The conversion rate to US cups is very dependant on what type of sugar and flour you use - there is a different rate for white flour and wholemeal flour, as there is for caster (superfine) sugar and granulated sugar. We use weights for measurements, and US cups rely on volume!"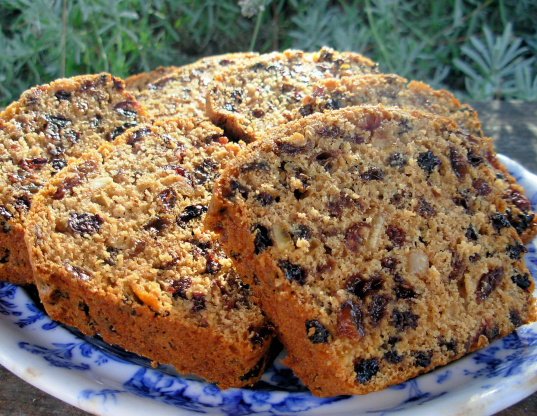 Darjeeling Cranberry, Ginger and Orange Tea Loaf (Fat-Free)
5 recipe photos
Directions
NIGHT BEFORE BAKING:.
Place all of the dried fruit, including the orange zest and ginger, with the sugar into a large mixing bowl, and pour over the hot tea, give it a good stir - cover with a clean tea towel and leave to steep overnight.
BAKING THE TEA LOAF:.
Pre-heat oven to 160C/325F/Gas Mark 3 and grease and line a 2 lb (1 kg) loaf tin.
Add the beaten egg to the fruit mixture and mix well, then add the ground ginger.
Gradually add the flour and stir the mixture well, ensuring there are no lumps of flour remaining.
Pour the mixture into the prepared loaf tin and bake for 1 and 1/2 to 1 and 3/4 hours, or until the loaf is firm and a skewer comes out clean when testing.
If the loaf appears to be browning too quickly, place on the bottom shelf and cover with a sheet of baking paper.
Allow the loaf to cool slightly, and gently remove to a wire cooling rack.
Store in an airtight tin for up to 1 week, or freeze slices of the tea loaf with greaseproof paper in between each slice.
This is wonderful when buttered or toasted!
NB: You must use HOT tea!