"These are the chocolatiest cupcakes you will ever eat. Because these are made with 70% cacao MELTED DARK CHOCOLATE! Elizabeth Falker's recipe, from CitizenCake. Do Not Over-bake! Frost these with chocolate-buttercream icing and garnish with marshmallows and walnuts, and you have rocky-road cupcakes!"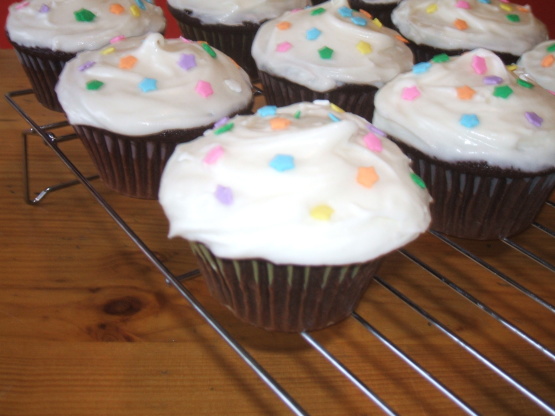 Darkest Chocolate Cupcakes (For Grownups!)
1 recipe photo
Directions
Position a rack in the center of the oven and preheat the oven to 325 degrees Fahrenheit. Line a 12-cup standard nonstick muffin pan (or two 6-cup pans) with paper liners.
In a medium bowl sift together the flour, cocoa powder, baking powder, and baking soda. Add the salt and set aside. In a large bowl, stir together the buttermilk, water, and vanilla and set aside.
Bring a few inches of water to a gentle simmer in a saucepan. Combine the butter and the chocolate in a heatproof bowl and place over (not touching) the simmering water (or use a double boiler). Heat slowly, stirring occasionally, until nearly melted, and then remove the bowl from the heat and whisk until smooth. Add granulated and brown sugars and stir until blended. Add the eggs one at a time, beating after each addition until combined. Scrape the chocolate mixture into the buttermilk mixture and whisk until smooth.
Add the flour mixture to the chocolate- buttermilk mixture in three additions, beating after each addition just until combined. Divide the batter evenly among the prepared muffin-tin cups; each paper liner will be filled almost to the top.
Bake the cupcakes, rotating the pan after about 10 minutes, for 20 to 22 minutes, or until a skewer inserted comes out clean. Let them cool in the pan on a cooling rack for 10 minutes, gently loosen the cupcakes from the pan, and then let them cool completely in the pan before removing them.