"These cookies are great. My mom made them a few times. She even tried them with raspberry jam instead of the date filling."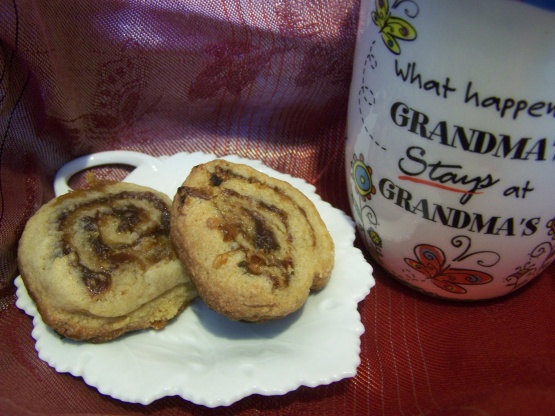 Date Pin Cookies
1 recipe photo
Directions
Preheat oven to 350°F.
In a saucepan, cook dates, sugar and water. Add vanilla. Stir. Let cool.
Meanwhile, in a bowl, sift all dry ingredients to make the dough.
Cut the shortening in small pieces. Add to dry ingredients. Knead with hands, without bringing it homogeneous. Incorporate eggs to the mixture. Let rest 30 minutes.
Roll the dough to 1/2 inch thick (it didn't mention on a floured surface, maybe it's better).
Spread the cool filling on the dough. Roll. Cut in slices of 1/2 inch thick. Put on a baking sheet. Cook in the oven for about 10 minutes.