Want more from Genius Kitchen?
Watch on your Apple TV, Roku, or Fire TV and your iOS, Fire, or Android device.
Learn More
"My son is a big Star Wars fan, so I came up with this themed pinata for his birthday party. The papier mache takes a few days, though not too much active work. The results are worth it!"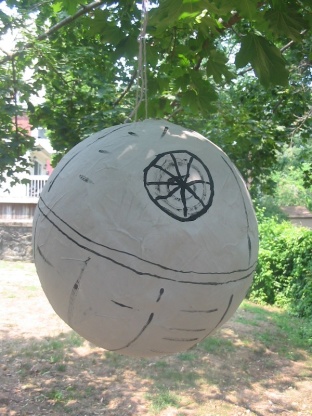 " Death Star" Pinata With "lightsabre" Stick
2 recipe photos
FOR PINATA

1

large balloons (punch ball)

1

newspaper, torn into strips

1

recipe papier mache (I use Papier Mache')

silver powdered tempura paints (non-toxic)

black powdered tempura paints (non-toxic)

heavy string (as much as you need)

scotch tape

FOR LIGHTSABRE

1

broom stick

2

sheets sky blue craft foam (8 1/2-inch x 11-inch, like Foamtastic)

1

sheet grey thin craft foam (8 1/2-inch x 11-inch, like Foamtastic)

hot glue
Directions
NOTE: I used premixed tempura/poster paint in bottles (12 oz for the silver, 1 oz for the black). "Active" time is spread out over the days: it takes about 25 minutes to make the paste, 20 minutes to do each layer of papier mache, about an hour to paint, and should take less than an hour to do the "lightbabre.".
FOR PINATA:
Prepare papier mache paste (#38097).
Inflate balloon until it is as large and round as possible. Tuck the end into balloon.
Coat strips of newspaper, one at a time, and lay onto ballon, making as smooth as possible with your hand. Cover entire balloon. Let dry overnight or about 12 hours.
Repeat step two at least twice (3-4 layers is good). Allow to dry completely. Surface should be very hard! Cut a "trap door", about 3" x 3" on one side (for adding candy). Detach balloon from the inside of the pinata and remove.
Paint the ball completely with silver tempera paint. Allow to dry. Repeat until ball looks uniform and no newspaper shows through (you may want to lay down a "primer" coat first in a neutral color). Once silver is dry, paint "Death Star" details in black: paint a line around the "equator." One one side near the top of the ball, paint a medium sized (about 4" diameter) circle with decreasingly smaller circles inside for the "superlaser" disk. Some vertical and horizontal lines will suggest detail. Once dry, attach string to top by poking 2 holes in the top and threading it through. Add candy, etc to about 1/3 full, and tape shut. Lift by the string - if the string starts to tear the pinata, reinforce with hot glue.
FOR LIGHTSABRE:
NOTE: Must be done by an adult, as glue is very hot! Apply a line of hot glue to the 8 1/2" edge of the grey sheet of foam. Press vertically to the bottom of the mop/broom stick (for the handle). Wrap foam taughtly around stick. Apply a line of glue to the already glued down edge and press foam to it (foam will overlap). Allow glue to cool slightly, cut end off until edges are flush. Apply another line of glue over seam, if needed. Repeat 4 times with blue or green foam, each level flush with the previous, until stick is covered. Once completely cooled, use the black paint to add details to the handle - horizontal lines, circle for a "button," etc.
TO PLAY:
Drape rope over a tree branch, and have one person hold the end, or hang as desired. Each player uses the "lightsabre" to hit the "Death Star" until the pinata breaks apart. Older kids should be blindfolded. This pinata should be strong enough that 6-8 younger kids should get a turn, and it should start breaking apart (no adult help needed!) during the second round.
get the genius kitchen app.
Watch on your iPhone, iPad, Apple TV, Android, Roku, or Fire TV.
Learn More