"I got this recipe from Jeff Smith, The Frugal Gourmet back in 1987. He made this recipe and ran it by Pizzeria Uno in Chicago and they smiled and nodded "It's almost as good as ours." This is easy, no roll recipe."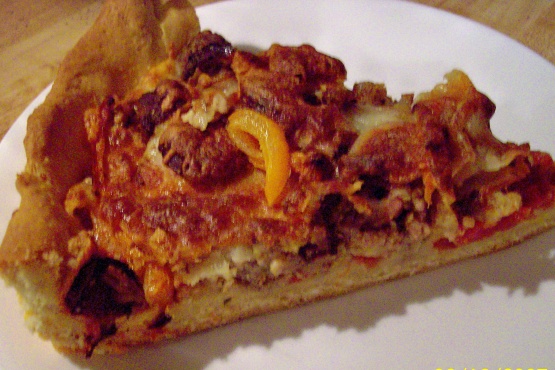 Deep Dish Pizza
2 recipe photos
Directions
In the bowl of your electric mixer- KitchenAid is perfect for this- dissolve the yeast in the water.
Add the oils, cornmeal, and 3 cups of the flour.
Beat for 10 minutes with the mixer.
Add the dough hook and mix in the additional 2½ cups flour.
Knead for several minutes with the machine.
It is hard to do this by hand since the dough is very rich and moist.
Pour out the dough on a plastic countertop and cover with a very large metal bowl.
Allow to rise double in bulk.
Punch down and allow to rise again.
Punch down a second time and you are ready to make your pizza.
Oil round cake pans or deep dish pizza pan.
Put a bit of dough in each and push it out to the edges, using your fingers.
Put in enough dough so that you can run the crust right up the side of the pan.
Try to make it approximately 1/8" thick throughout the pan.
The filling for 9 or 10 inch pan:
Place the cheese in tilelike layers on the bottom of the pie.
Next put in the tomatoes and the basil, oregano, garlic and salt- reserve the Parmesan cheese for the top.
Drizzle the olive oil over the top of the pie and bake.
Additional variations: BEFORE you put on the Parmesan cheese and olive oil drizzle you might like to add any or all of the following:
Italian Sausage- hot or mild.
Yellow Onions- peeled and sliced or diced.
Pepperoni- sliced thin.
Mushrooms- sliced.
Green Sweet Bell Peppers- cored and sliced thin.
Sliced Black Olives.
Very Thinly Sliced Ham or Canadian Bacon.
Put any or all of these on your pie and then top with the Parmesan and the olive oil.
Bake the pie in 475º oven until the top is golden and gooey and the crust a light golden brown.
This should take about 35-40 minutes.
get the genius kitchen app.
Watch on your iPhone, iPad, Apple TV, Roku, or Fire TV.
Learn More