"After receiving several packages of fresh ground venison from a friend, I was asked to find some good recipes to use it up. This delicious casserole fit the bill exactly. Even my little sister, who hates tomatoes, any ground meat, and cheese, loves it. I use canned tomatoes. The preparation time is for cutting the potatoes and, if using fresh, tomatoes. The cooking time includes the browning of the venison."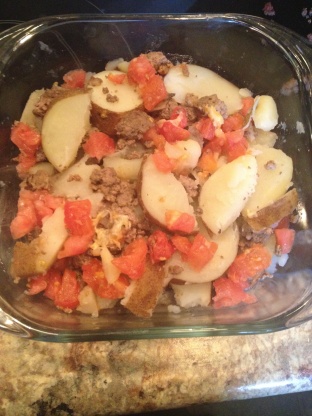 Deer-Potato-Tomato Casserole
1 recipe photo
Directions
Cook deer burger, onion, basil, salt and pepper together until deer is done and lost its color.
Meanwhile, parboil potatoes until just tender.
Put deer burger in a deep 7 1/2 x 7 1/2-inch casserole and stir in potatoes and tomatoes (if canned tomatoes are used, do not drain).
Bake, uncovered, in a 350 degree oven for 30 minutes.
Top with cheese and bake 15 minutes longer.