"Similar to Subway's sweet and spicy glaze. Tastes wonderful on chicken (personally I like to melt some American cheese on top and make a sandwich). I'm sure it would go well with pork or any other white meat also... enjoy! Todd Wilbur- TSR recipe * consider if mixture ends up too acidic add some extra sugar and vice versa if its too sugary add an extra half to whole tablespoon of vinegar"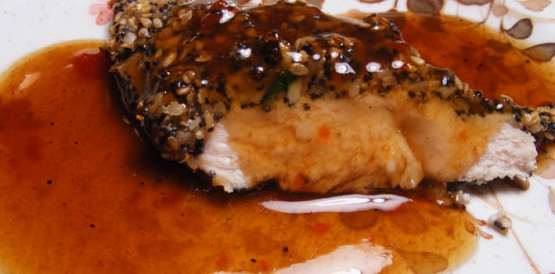 Delicious Bourbon Chicken Glaze
3 recipe photos
Directions
Whisk together water sugar and cornstarch in a saucepan until mixed well.
Add Worcestershire, soy sauce, ketchup; mix well.
Add salt, garlic powder, onion powder, cayenne pepper, black pepper, cumin and sage.
Bring mixture to a boil over medium heat.
Reduce heat and simmer for two minutes or until thick (Make sure its rather thick -will thin down when adding final ingredients).
Remove from heat and let cool.
Stir in vinegar and lemon juice.
Let mixture cool in fridge for about an hour or longer to let the spices blend (a little less is ok if pressed for time).