"Once my friend Hilda from Guatemala convinced me it wouldn't kill me I tried beef tongue...then I begged her for the recipe! Over the years I've tweeked it a bit and it's only gotten better, you've GOT to try this! Just don't tell your kids what it is & they'll love it too, even my boyfriend's 9 year old thinks it's awesome! Hilda used to boil it but I decided to try it with the crock pot & man, it's just awesome, so tender & absolutely delicious!"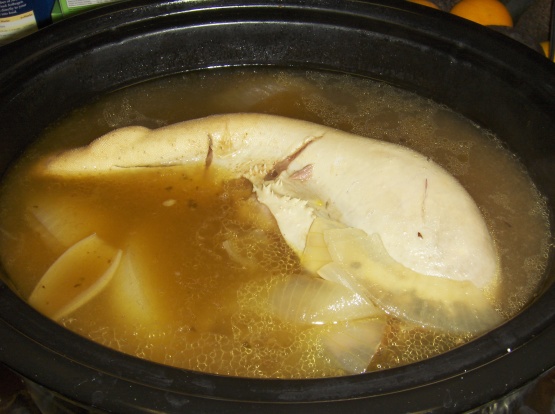 Delicious Crock Pot Beef Tongue Tacos
2 recipe photos
1

beef tongue

14.79

ml beef bouillon, I use caldo de res

1

large yellow onion, quartered

6

shallots, halved

6

garlic cloves, mashed

4.92

ml coarse black pepper

4.92

ml white pepper

14.79

ml kosher salt
water, to cover

1

bunch cilantro, chopped

1

bunch scallion, chopped

1

serrano chili, minced

1

jalapeno chile, minced

3

roma tomatoes, chopped

1

avocado, mashed (Fuerte has best flavor & texture)

3

limes

salt & pepper

Mexican blend cheese
Directions
Place 1st 10 ingredients in crock pot & cook on low for 6 to 8 hours. You can slice the tongue lengthwise to make it fit, that's usually what I do.
You can substitute beef stock for the water as suggested by my gracious reviewer Klyn or experiment, I often use Caldo de Res by Knorr. This is just so good I make it whenever I see fresh beef tongue in the market.
Before you remove tongue from crock pot prep the rest of the ingredients for toppings, etc. (the lime is for a squeeze over your tacos). Garnish with these as you like. Sometimes I just put cilantro, scallions, a touch of avocado, salt, pepper & lime but experiment! Adjust amount as needed. I usually just make enough for two people & then make fresh each day for leftovers.
Once tongue is done remove & peel off outer layer, it comes off pretty easily once it's fully cooked. Chop or shred meat and make your tacos! This is so delicious you probably won't have leftovers but if you do it's even better the next day! Enjoy!
I've added some photos, I was being lazy tonight & just slapped some of the chopped tongue onto white bread with some mayo & a little salt. Absolutely delicious! Do try this, the meat is so incredibly tender & delicious I just can't describe it in words -- .