"I have made London Broil frequently in the past, sometimes from recipes, sometimes my own concoctions but the preparation has always involved a long marinade to help tenderize and flavorize the meat. I have used a myriad of different combinations; soy, garlic, balsamic, honey, brown sugar and ginger have all been employed and generally the results have been quite good. This recipe, from Cooks Illustrated, is quite different; no marinade, no special flavorings, just a sprinkle of salt, a good tight wrap, a sit in the refrigerator and a a shower of freshly ground pepper. Sound boring? Au contraire, mon ami! It brought rave reviews from the chief culinary consultant and I thought it definitely ranked as the best London Broil I've ever made."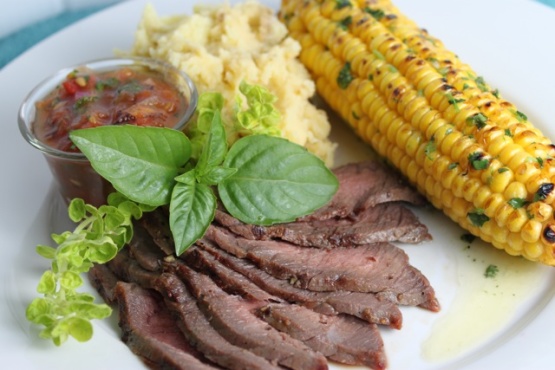 Delicious Grilled London Broil
1 recipe photo
READY IN:

35mins

SERVES:

6

UNITS:

Metric
Directions
1. Sprinkle both sides of steak evenly with salt; wrap tightly with plastic wrap and refrigerate for at least 3 hours (steak can be salted and refrigerated for up to 24 hours).
2. Remove steak from refrigerator 1 hour before grilling.
3. About 20 minutes before grilling, ignite grill, turn all burners to high, close cover, and heat until very hot, about 15 minutes. Scrape cooking grate clean with grill brush.
4. Unwrap steak; insert 3 metal skewers lengthwise through center of steak, spacing skewers about 1 inch apart. This is optional but it will keep meet from curling up on the grill. Brush both sides of steak with oil and sprinkle liberally with pepper. Place steak on hottest part of grill. Grill, flipping steak every 4 minutes, until instant-read thermometer inserted into center of meat registers 120-130 degrees for rare to medium-rare, 16 to 20 minutes.
5. Transfer steak to cutting board and let rest, tented with foil, about 10 minutes. Remove skewers. Holding thin slicing knife at 45-degree angle to meat, slice very thinly and serve.
Notes:.If you prefer your meat well-done this probably isn't the recipe for you. London broil tends to become tough and dry when cooked past medium rare.