"easy and good - you can use any italian red sauce ( ready made or your own )for simmering -- i have used shallots instead of the onions with great results. Have the sauce simmering before you make the meatballs-it comes out better also-test the consistency of the raw meat before you shape the meatballs-the mix should be soft but it should hold together well in your hand. My kids, little and big, beg me to make this-there are never any leftovers!"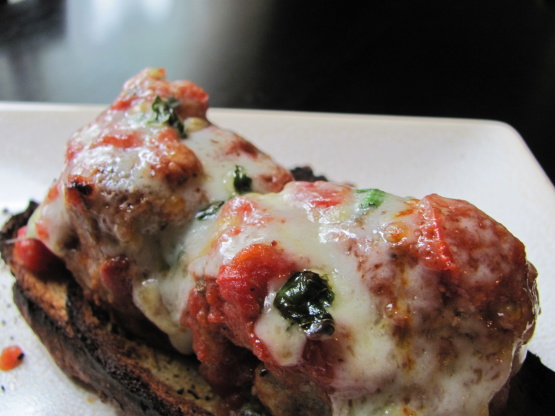 Delicious Italian Meatballs Simmered in Sauce - Mommy's Best!
2 recipe photos
Directions
Chop garlic and onions.
Saute garlic and onions , in olive oil, until cooked and browned- set aside to cool.
Mix ground meat, eggs, italian seasoning, grated cheese, salt & pepper and cooked onions/garlic mixture until well blended -- clean hands work best.
Shape mix into approx 25 meatballs, all about walnut sized .
In same pan, under medium heat, cook meatballs, turning as needed, covered, until cooked throughand brown on all sides.
Drain off fat.
Place in your favorite red italian sauce and simmer for at least 60 minutes over low heat.
Serve over your favorite pasta.