"This is the simplest pork and noodles recipe I know. It takes only 5 ingredients - two of which are salt and pepper. My kids LOVE this!! You'll be amazed at how good this is. I cook the meat in my crockpot, but my mom has always done it on the stovetop. I never believed her when she said it was flavored basically with salt, pepper and beef broth. I thought I was so smart and added spices and garlic, but I found that nothing I tried was as good as her version. As they say, mother knows best....uuggghhh!"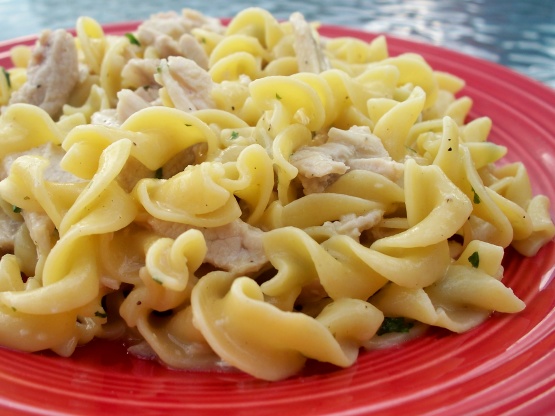 Delicious Pork and Noodles
3 recipe photos
READY IN:

4hrs 5mins

SERVES:

6

UNITS:

Metric
Directions
Sprinkle all sides of your pork loin liberally with salt and pepper.
Spray inside of crockpot with spray cooking oil (I do this because it makes cleaning the crock so much easier).
Place pork in crockpot along with about 1/4 cup of water and cook on low all day or high for about 3-4 hours (cooking time varies according to your crockpot and the size of your pork loin -- if it is large and I need it to be done faster, I will cut the loin into smaller chunks). You will know when it is done, when you can shred it with a fork.
About 15-20 minutes before I want to serve, in a pot on the stove, I bring the cans of broth to just the point of boiling and then I add the bag of noodles and cook basically according to the directions on the package. Hopefully, most of the liquid will be absorded, if any is left, you might want to drain it off. For this dish, the noodles should NOT be soupy.
While the noodles are cooking, remove your pork loin from the crockpot and gently shred the pork. We like it not to be stringy and not to have chunks that are too big. Just nice bite sized pieces.
When the noodles are done, add the pork to the pot of noodles and stir so pork is distributed throughout. If pork wasn't warm when you added it, let the noodles/pork reheat. Taste - if bland, you'll need to add more salt and pepper.
Serve with warm bread and a salad. Nice comfort food.
NOTE - my mom cooks the pork on the stove in a pot. After salt/peppering the pork, I think she browns all sides of the loin and then turns down to low and cooks for 2-3 hours - with a little water or broth in the bottom of the pan. Then she removes the pork to be shredded and in the same pot cooks her noodles and then adds pork back.
TIP - if you aren't worried about watching fat, add the juice/drippings that are in the bottom of the crockpot to the cans of broth - the drippings add an extra depth to the flavor of the dish!
NOTE - if your pork loin is on the small side (closer to 1 pound), you will want to use less noodles and less broth. You should be able to get pork with every bite of noodles.