"I've tried making tea using several different recipes and by using different methods (e.g., coffee makers, tea makers, etc.), but this is the best method I've found. I did not come up with this myself, and I'm sure lots of other people use a very similar method, but this is for people who just can't get the flavor they crave. Some explanations: (1) The reason you do not let the water boil for too long is that, the longer it boils, the more oxygen is removed. This makes for poor tasting tea. (2) Use a glass or glazed pitcher, because a plastic pitcher tends to impart an undesired flavor to the tea. (3) Your tea is only as good as the ingredients you use to make it. I recommend filtered or bottled water and Lipton or Luzianne bags."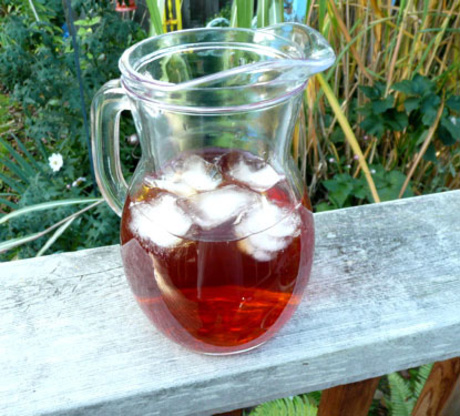 Delicious Sweet Tea
2 recipe photos
Directions
Bring four cups of water to a mild-moderate boil. Remove heat as soon as bubbles approach the surface of the water.
Pour (splash) boiling water over tea bags in a glass pitcher.
Let steep 1 hour.
Remove bags and squeeze them on their way out; be careful not to tear them.
Add sugar to taste (2/3 cup works well for me). Stir until dissolved.
Add two cups of cold water. Stir well.
Chill & Serve!