"This is how I am currently making my white sourdough bread. I am constantly learning new techniques in order to perfect my bread so next year I may have a whole new approach. You can use up to 50% whole wheat flour, if you prefer."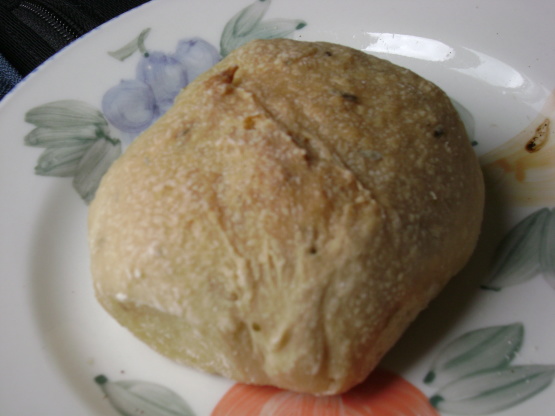 Deluxe Sourdough Bread
8 recipe photos
Directions
*To make proofed starter, take 2 Tablespoons of your starter and stir it into 1 cup of water; then stir in 1 cup of flour. Cover and let sit (proof) overnight, or 8 to 14 hours. Measure out the 1 1/4 cups needed for the recipe and return the rest to your starter pot.
Combine the first 5 ingredients. Mix in the flour just until the mixture is a shaggy mass.
Cover and let rest for 30 minutes.
Add sugar, butter, and salt and mix until all is incorporated.
Knead dough until it is smooth and satiny.
You can mix this dough in a bread machine if you wish, but take the dough out of the machine 10 minutes before the final kneading cycle is done to avoid over-processing the dough, which will cause it to become slack and wet.
Cover and let dough rest for 45 minutes.
Divide dough into 2 equal portions. Pat each dough portion out into a large, flat circle. Gently stretch and fold the left side over the middle, then the right side over the middle (like folding a letter). Pat down with the palms of hands and repeat the folding with the remaining two unfolded ends. Shape loaves, always keeping the folded side as the bottom. I do free-form oval loaves and place them on parchment paper.
Spray the loaves with Pam and cover with plastic. Place in the refrigerator overnight. The next day, take loaves out and let them finish rising at room temperature. They should be very light. Do not rush it or your bread will be dense.
If you prefer, you can refrigerate your dough immediately after you finish kneading it and do the folding, shaping and rising after you take it out of the fridge the next day.
Preheat oven and stone to 400°F for about 30 minutes prior to putting bread in oven. I also place a shallow pan of hot water on the bottom rack for steam.
When bread is fully risen, slash top and slide onto hot stone. If you don't have a stone, just bake on a baking sheet. After 10 minutes, turn the oven heat down to 375°F.
When loaves start to show color, water pan can be removed. Bake until loaves are a nice golden brown. Time will vary according to the shape and size of loaf.
Cool on a wire rack. You can brush crust with butter while still hot if you like a soft crust.
The small addtion of white whole wheat flour that I use in this bread gives it an interesting depth of flavor that I like. It does not change the color of the bread. I don't know if white whole wheat flour is easily available just anywhere. I am fortunate to live in an area where wheat is grown and milled so I have easy access to various flours.
get the genius kitchen app.
Watch on your iPhone, iPad, Apple TV, Roku, or Fire TV.
Learn More