"As in Greek Mythology, the parent of this cake is based off of the traditional king cake. However, this cake is so much more than its parent could be, losing the pretentiousness associated with the holiday while gaining flavor. It is brought back to its simplest form of a rich cake topped with a delicious cream cheese frosting. Furthermore, this recipe is less about appearance and more about taste, emphasizing the main flavors of the rich Danish dough, cinnamon, cream cheese and vanilla. Although, like the traditional king cake, this cake can be filled with a myriad of jams and cream cheese, I recommend trying the basic recipe first and deciding for yourself if it needs any other flavors. I recommend a very tall glass of milk to accompany this rich desert!"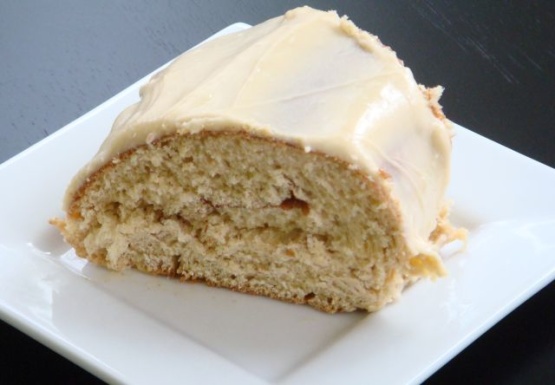 Demigod Cake
1 recipe photo
Directions
Pour the warm water into a large measuring cup and stir in sugar until dissolved.
Add the yeast to the sugar/water combination, stir well, and set aside in a warm place for 10-15 minutes.
In your mixer's bowl, sift together 3-1/2 cups, 1/2 cup of sugar, nutmeg, salt and cinnamon.
Form a hole at the center of the mixture and pour in yeast mixture, milk, vanilla extract and egg yolks.
Mix all ingredients together using the dough hook of your mixer on low speed, turning the speed up a notch or two once fully incorporated.
When mixture is smooth, beat in 8 tablespoons of margarine, 1 tablespoon at a time. Continue to beat mixture for 2 minutes.
While continuing to mix your dough, add 1 cup of flour 1 tablespoon at a time. Continue to kneed for 10 minutes once all the flour is added.
Melt remaining 2 tablespoons of margarine and pour half into a large metal bowl. Using a pastry brush, coat the inside of the bowl evenly.
Place the dough ball in the buttered bowl and coat with the remaining tablespoon of melted margarine.
Cover the bowl with a kitchen towel and place in a warm, draft-free spot for about 1-1/2 hours, or until the dough doubles in volume. At this time, wash your mixing bowl as you will need it again.
Cover a baking sheet with a piece of parchment paper and set aside.
Remove dough from bowl and place on a lightly floured surface.
Using your fist, punch dough down. Then sprinkle the addition 2 teaspoons of cinnamon evenly over the top and shape dough into a cylinder.
Place the dough on the parchment paper and fold the cylinder over upon itself, forming a circle, pinching together the ends. At this time, make sure the cake is more or less even in thickness all around (so the cake bakes evenly).
Cover the dough with a kitchen towel and set in a warm, draft-free spot for 45 minutes or until the dough doubles in volume.
Pre-heat oven to 375 degrees. (Please be sure that it actually is 375 degrees, as this is the biggest cause of baking errors. Also, I recommend using 2 pizza stones in your oven, one below the rack you are cooking on and one near the top of the oven. The two pizza stones will hold the temperature of your oven steady.).
Mix together the egg and one tablespoon of water and brush onto the cake.
Bake for 25 to 35 minutes, or until golden brown.
Once done, lift cake and parchment paper onto a wire rack and let cool completely.
In your mixing bowl, combine cream cheese and 4 tablespoons margarine and beat well with wire beater.
Turn off mixer and add sugar and vanilla. Beat together mixture, starting slowly and scraping down the sides of the bowl multiple times.
Spread frosting evenly onto cake.
Cut into 2 to 3 inch sections and serve.
Note: Cream cheese frosting can be doubled if you so desire.
get the genius kitchen app.
Watch on your iPhone, iPad, Apple TV, Roku, or Fire TV.
Learn More