"Great frozen-ahead day-starters! Easy to make, with a yield of 18-24 muffins, depending on how full you fill the muffin cups. We started with TGirl's Banana Muffins recipe,
Banana Muffins
for anyone who wants them in their original form from TGirl, tripled the recipe, and altered it to suit our own tastes. You can also add in 1 teaspoon lemon extract for a wonderful lemony banana muffin, or 2/3 cup minced fresh pineapple, or both! We hope you enjoy them."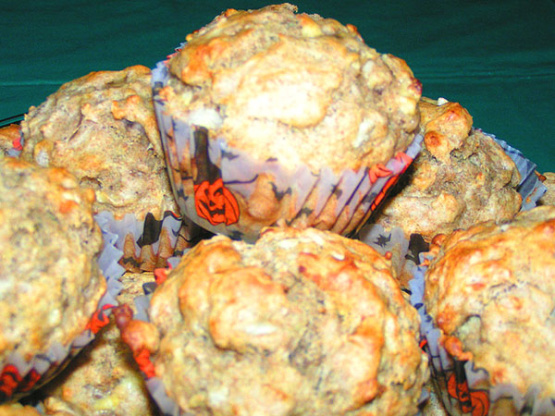 Diabetic Banana Nutmeg Muffins [ See Notes ]
2 recipe photos
Directions
Preheat oven to 375° F and grease or line 18-24 muffin cups.
In a large bowl, combine all ingredients, carefully folding the flour into the banana just until moistened.
Spoon batter into muffin cups. To get pictured results, we filled the muffin cups 3/4 full to get the nice bloom on top, when done. Bake for 10-15 minutes, depending on how much you wish to cook the banana. The pictured results were 13 minutes.
Note: The Nutritional information for these muffins is misleading. The amount of sugar is much less. The body does not recognize Splenda or Altern as sugar, and therefore, should be counted differently. The only sugar is from the bananas and starch-generated sugar from the flour. Whole wheat generates less.
You may also substitute the vanilla for orange extract and add in the pulp of 3 fresh oranges, lemon extract and the pulp of 4 lemons, or cherry extract and 2/3 cup minced pineapple. Be creative!
get the genius kitchen app.
Watch on your iPhone, iPad, Apple TV, Roku, or Fire TV.
Learn More