Community Pick
Divine Mashed Potatoes W/Fontina-Sage-Brussels Sprouts #5FIX
"5-Ingredient Fix Contest Entry. You take the great rich flavor of Simply Potatoes Traditional Mashed Potatoes and blend with herbs and spices and cheese and broil in as a casserole, Serve a high mound on your plate and top with microwavable Brussels Sprouts and more cheese. Simple, easy, divine! Dig into this side dish and smile!"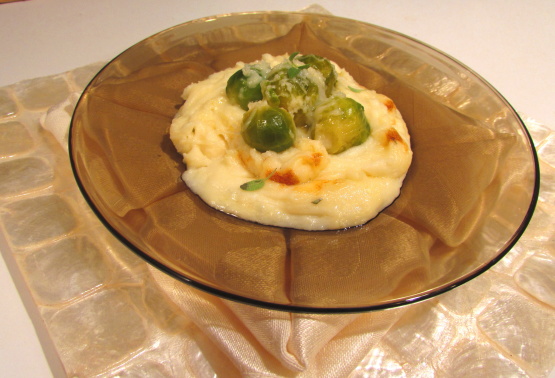 Divine Mashed Potatoes W/Fontina-Sage-Brussels Sprouts #5FIX
1 recipe photo
Directions
Preheat oven to BROIL.
Peel plastic film at corner of Simply Potatoes package to allow it to vent and place carton into the MICROWAVE. Heat on high for 3 minutes; then remove film completely and stir. Return to the microwave and cook on high for 1 more minute.
While mashed potatoes are in the microwave, mince about 6 of the larger sage leaves; setting aside the smaller sage leaves to use for garnish.
Remove the mashed potatoes from the microwave and add in the 3 ounces of shredded Fontina cheese, minced sage leaves, and garlic powder. Stir until evenly blended. Pour the potato mixture into greased 8x8x2-inch casserole dish. Sprinkle top of potatoes with 2 ounces of the shredded cheese.
Place in the preheated OVEN and broil on high until cheese is melted and bubbly and golden brown spots appear (about 5-8 minutes). Remove from oven.
While the potatoes broil, place the frozen Brussels sprouts package in microwave and cook as per the directions on the package, about 6 minutes on high.
To plate, take an 1/2 to 3/4 cup serving portion of the broiled mashed potatoes and place on a plate. Top with a portion of the microwaved Brussels sprouts. Sprinkle with several of the small leaves of sage and a couple of pinches of the reserved shredded cheese. Serve.