"This ice cream is so rich and creamy! This recipe is for the custard base which then needs to be processed in an ice cream maker, but it is more than worth it! A lighter version can be made with half and half. I use the 16oz container of frozen strawberries and syrup in place of the strawberry puree and fresh strawberries. Or leave them out for sinfully rich cheesecake ice cream! Cook time is based on your ice cream maker and does not include time needed to cool the batter."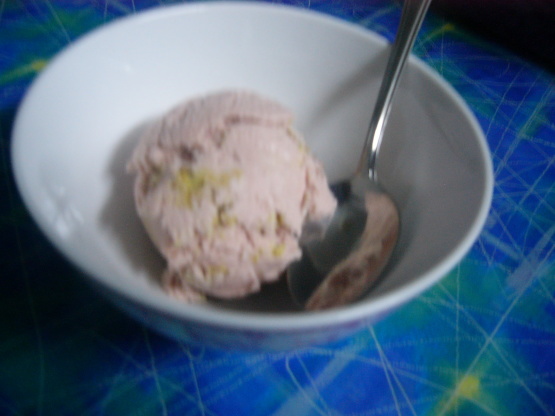 Divine Strawberry Cheesecake Ice Cream
2 recipe photos
Directions
Heat cream in a small saucepan over medium high heat just to the point where it begins to foam up then remove from heat.
Meanwhile, in a stainless steel bowl, beat cream cheese, egg yolks, and sugar until light and fluffy (about two minutes).
Slowly pour the heated cream into the mixture, be sure to continue whisking constantly so that the eggs do not curdle, strain out any lumps before the next step.
Place the bowl over a saucepan of water and, stirring constantly, cook until the custard thickens enough to coat the back of a wooden spoon (the film of custard on the back of the spoon, when raised, should stay in place even when you draw a line through it with your finger).
Immediately remove the custard from the heat and stir to cool so it does not overcook.
Stir in the vanilla extract and the strawberry puree.
Cover and allow to cool to room temperature, then refrigerate several hours.
Process the cold custard in your ice cream machine according to your manufacturer's instructions.
Once made, stir in fresh chopped strawberries if desired and store in freezer.