"I always have these ingredients in the pantry. You can use either all purpose flour or whole wheat, quick cook or old fashioned oats, and chunky or smooth peanut butter. When these are in the oven, the house smells so good that my husband would even try them I think. I love to whip these up for the girls (dogs). It's only fair they get special treats now and again :) I also make these around Christmas and give them to my friends with dogs! Great gift for pet owners!!!"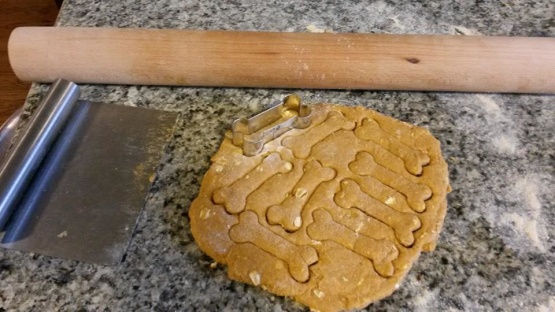 Dog Biscuits: Peanut Butter and Pumpkin
2 recipe photos
Directions
Preheat oven to 350 degrees F (175 degrees C).
Combine dry ingredients in a bowl (flour, oats, salt, and cinnamon) and mix.
In a stand mixer bowl, combine the eggs, pumpkin, and peanut butter. Combine the 2 together and start to work the dough. If you don't have a mixer, then just do it by hand.
The dough should be dry and stiff. You might need to add just a bit of water.
Roll the dough about 1/2-inch-thick and cut with cookie cutters or a knife.
Bake on a parchment or silpat lined cookie sheet for about 30-40 minutes, or until hard. The baking time depends on if you are making big treats, or little ones so adjust the times. Little treats I would check at around 15 minutes or so.
Store in an airtight container.