"Most North African & Middle Eastern countries have a version of these. In Algeria they are known as Bourek, in Turkey; Borek, in Morocco; Cigars, Brik or Bourek etc.... I have a recipe posted for the Algerian version filled with spiced ground chicken & preserved lemon. These rolls are a little bit labour intensive but once you get into the swing of it the time passes quickly enough! This particular recipe is by Dalila Amdouni -- the personal cook to a wealthy Parisian family living in Tunisia. Although the recipe states using uncooked prawns, I prefer to flash fry them in a pan until they have JUST turned opaque - no more a minute or two. (if you are new to making rolls, here is a step by step -in photos- demo for you: http://radiancerecipes.com/chinese-springrolls/)"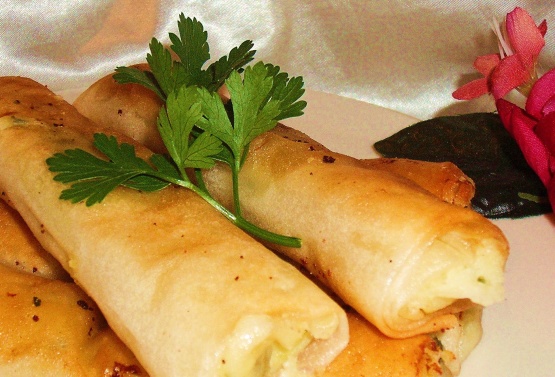 Doights De Fatma / Fatma's Fingers - Tunisian Spring Rolls
1 recipe photo
Directions
Put the prawns in a bowl with the cilantro, lemon, capers, spice, salt & harissa. Add the ricotta & mix together using your hands or a wooden spoon.
Mix in the egg & the black pepper.
Take a sheet of phyllo pastry, fold in half to strengthen. Place a line of filling in the middle of the sheet, then roll up tightly - making sure to tuck the sides over the filling first. You can seal the fingers with a little water - this will stop the oil seeping in & the filling from bubbling out.
Pour enough sunflower or vegetable oil into a large frying pan to cover the bottom by 1/2". Heat the oil over a medium heat until it is around 180c, then fry the fingers in batches for around 8-10 minutes or until they are crisp & deep golden, you will need to turn them so that they cook evenly.
Remove the fingers wfrom the oil with a slotted spoon & stand upright on plenty of kitchen paper to drain. Serve warm. (if you do want to make these slightly ahead of time, you can fry them & reheat in the oven but take care not to leave them too long as the prawns will over cook & become rubbery.