"My maternal Grandmother, Dora Feinstein, was an excellent cook and an even better baker! She began entering baking contests and in 1964 she became the New Jersey state winner of the Pillsbury Bake-Off. As the state winner she received all new kitchen appliances and an all-expense paid trip, with my grandfather, to Miami FL to compete in the National Bake-Off! Parts of the contest were televised that year and we got to watch her in the parade of state winners entering the hotel ballroom which had been transformed into a lot of small kitchens! Later we watched the Award Ceremony. While she did not win the National Bake-Off she was OUR winner! We loved visiting my grandparents for many reasons, but one particular reason was that we could be sure we would be "testing" whatever her latest creation was! Her recipe became the property of Pillsbury, of course, and appears in their cookbooks as "Royal Marble Cheesecake"."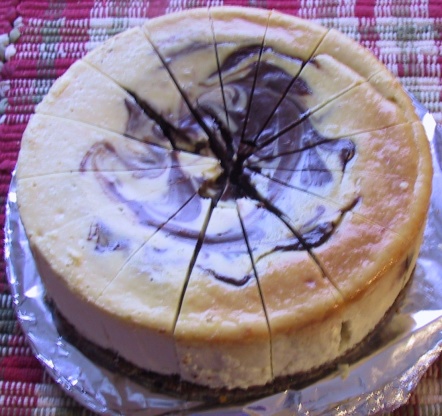 Dora's Prize Winning Cheesecake
5 recipe photos
Directions
You need a 9 inch springform pan for this cake.
Melt the chocolate chips, either in the microwave or over a double boiler.
Take the cream cheese out of the fridge, it needs to be softened.
Heat oven to 400°F.
In a bowl, combine ¾ cup flour and 2 teaspoons sugar.
Using an fork or pastry blender cut in butter (or margarine) until mixture looks like coarse crumbs.
Stir in 2 teaspoons of the melted chocolate – keep the rest for the filling.
Press the mixture into the bottom of the ungreased springform pan.
Bake at 400 degrees for about 10 minutes or until very light brown.
Remove from oven and lower the heat to 325°F.
In a large bowl beat the cream cheese and sugar until light and fluffy (you could do this by hand but I would use an electric mixer, you'll need it in a minute anyway).
Add ¼ cup flour and the vanilla and blend well.
Using low speed on an electric mixer add the eggs one at a time, beating until just blended.
Add the sour cream and mix well.
Take 1 ¾ cups of the filling and put it in a separate bowl and stir in the rest of the melted chocolate.
Pour half of the plain filling into the pan, over the crust.
Take half the chocolate filing and put it on the plain filling by spoonfuls scattered around.
Pour in the rest of the plain filling.
Take the rest of the chocolate filling and top the plain filling again by spoonfuls.
Using a butter knife swirl the chocolate through the plain filling.
Bake at 325F for 60-75 min or until center is almost set (putting a shallow pan half filled with water in the bottom of your oven should help keep the cake moist and reduce cracking).
Remove the cake and let sit for 10 minutes before removing the sides of the springform pan.
Let the cake cool for 2-3 hours then refrigerate overnight before serving.
Enjoy! ( Please note that I am not a cake baker and have not made this recipe for many years- I am GUESSING at the the prep time - I apologize if I am wildly off -- the cooking time is a total of the times for the crust and the rest of the cake).