"To die for! From the book Delicious Pastries. Resting period of 8 hours not included in prep time."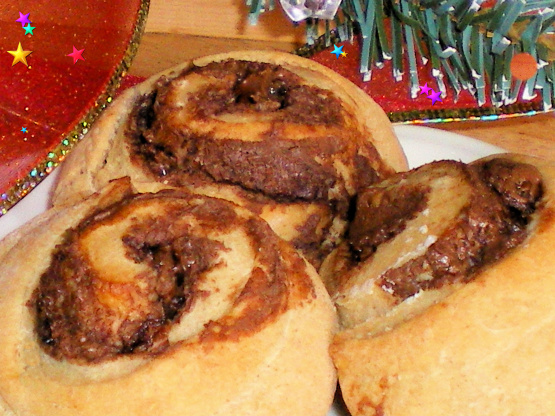 Double-Chocolate Swirls
1 recipe photo
Directions
FOR THE PASTRY:.
Mix together the flour, yeast, sugar, salt, and cinnamon in a large bowl.
Melt the butter in a heatproof bowl set over a pan of simmering water. Whisk the 2 eggs and milk in then pour into the flour mixture and mix well to form the dough.
Turn out onto a floured board and knead for 10 minutes or until smooth. Put dough in a large floured bowl, cover with plastic wrap and put in a warm place for 8 hours or overnight.
To make the buns take the dough from the bowl and punch down. Preheat the oven to 425° and lightly oil 2 baking sheets.
Divide the dough into 4 pieces and roll each into a rectangle about 1 inch thick. Spread each rectangle with the chocolate hazelnut spread and scatter with the chopped chocolate. Roll from the long edges and cut into 6 pieces. Place each swirl, cut side down, the the baking sheets and brush each with the beaten egg.
Bake in the preheated oven for 20 minutes and serve warm.