"I enjoy waffles,and I enjoy chocolate.This recipe I found in "First for Women" magazine several years ago. I have made this recipe but I did not add the miniature chocolate chips. You have to watch that the waffles do not burn."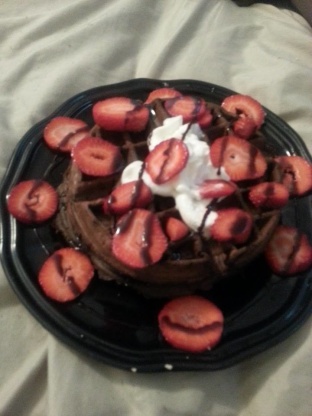 Double-Chocolate Waffles
1 recipe photo
Directions
Preheat your waffle iron.
Melt butter.
Combine flour, cocoa, sugar, baking powder and salt.
Separate egg and beat yolk with milk and vanilla.
Stir milk mixture and melted butter in to flour mixture until dry ingredients are well-moistened- batter may be slightly lumpy.
Stir in chocolate chips.
Beat egg white until it holds stiff peaks.
Gently fold into batter.
Pour batter onto waffle irion using about 1/2 cup for two 4" waffles.
Bake until crisp and browned.
Serve with whipped cream and fruit or ice cream and chocolate sauce.