"I love coconut and have been wanting to try this recipe from Smitten Kitchen. Coconut oil can be found at Trader Joe's, Costco, and most major grocery stores. I added the coconut flour to sub for the whole wheat pastry flour."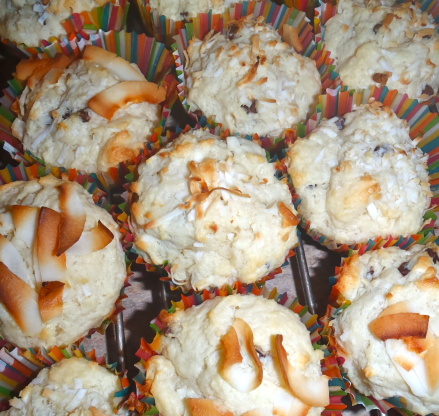 Double or Triple Coconut Muffins
3 recipe photos
Directions
Preheat oven to 375°F Either grease 10 muffin cups with butter or coconut oil, or line them with papers.
In a small saucepan, warm your coconut oil just until it melts. Or use your microwave on defrost setting 10 seconds at a time. It should still be on the cool side. DON'T over heat . On a hot day mine will liquefy on its own.
In a medium bowl, whisk together your flours, baking powder and salt. Stir 1/2 cup shredded coconut.
In a separate bowl, whisk together egg, sugar, coconut oil, yogurt and vanilla. Stir into dry ingredients until just combined.
Divide batter among prepared muffin cups then sprinkle the top with remaining 1/4 cup coconut, about 1 to 2 teaspoons on each. Bake until a tester inserted into the center comes out batter-free, about 20 minutes. Transfer muffins to a rack and let cool.
Note - If your yogurt and egg are not at room temperature, they will re-solidify the coconut oil, which is fine for baking but makes the batter quite thick and difficult to stir, like a cookie batter.