"Homemade granola bars are an easy and healthy after-school snack and aren't as sweet as the store-bought varieties. They can be stored in an air-tight container to have handy when hunger strikes. More great recipes can be found at www.peanutbureau.ca."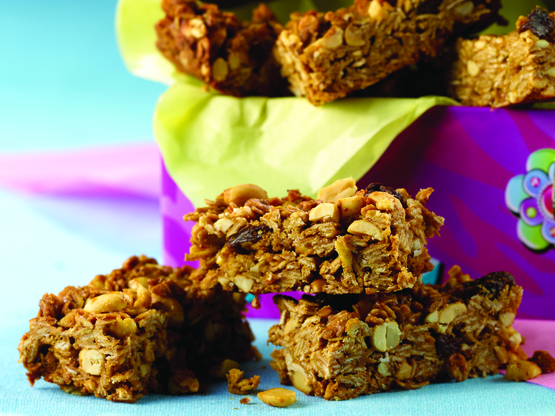 Double Peanut Granola Bars
1 recipe photo
Directions
Preheat oven to 325°F (160°C). Grease an 8x8-inch (20x20-cm) baking pan and line with parchment paper, letting it stick and hang over the pan. In a large bowl, stir oats with peanuts, raisins, flax seed, cinnamon and salt.
Place honey, peanut butter, brown sugar and butter in a medium saucepan set over medium-high heat. Stir constantly until sugar is dissolved and mixture boils around edges, about 1 minute. Pour over oatmeal mixture and stir well to combine.
Using damp fingers, press firmly into pan. Bake in preheated oven until edges are a deep golden brown, about 25 to 30 minutes.
Cool completely in pan. Using the parchment paper, remove to a cutting board then discard parchment. Slice into bars and store in an airtight container.