"This chunky Salmon Mousse is made with hot smoked salmon and cold smoked salmon. Hot being the salmon that is smoked in hot smoke so that it cooks; and cold being the stuff that is cured in smoke and served thinly sliced. I buy the cold smoked salmon pieces rather than the expensive slices. Hot smoked salmon is available in vacuum packed packets beside the cold smoked salmon in New Zealand. This mousse could also be made with poached or baked salmon, tinned salmon or even tuna fish made to look like salmon. My mum and I once made it with pilchards when we ran out of salmon and tuna! Our excuse was that it was 1981 in Tonga, supplies on the island were running a bit low and we were cooking for 35 people for a Burns Supper. We just used the white bits from the tinned pilchards (the dog loved the dark bits!) and added some red food colouring! "What has salmon mousse got to do with a Burns Supper?" I hear you ask. Well, Scottish food is served at this event to celebrate the great Scottish Bard, Robert Burns, on the 25th January. January in Tonga is very hot so you don't really want something hot like Scotch Broth. We decided that in an ideal situation we would serve Scottish smoked salmon. No Scottish smoked salmon to hand, or even anyone's smoked salmon so Mum decided salmon mousse was the next best thing. Then we couldn't find enough tins of salmon!! I don't recommend our pilchard recipe. This is the best recipe."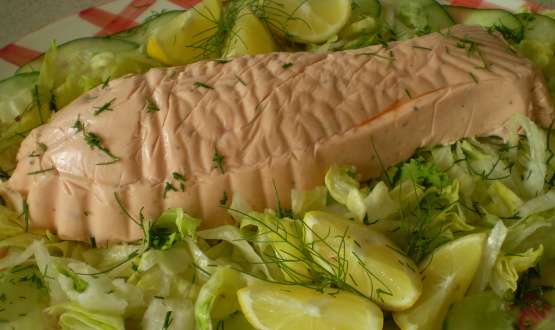 Double Smoked Salmon Mousse
1 recipe photo
READY IN:

2hrs 20mins

SERVES:

6

UNITS:

Metric
Directions
Sprinkle the gelatin over the hot water and stir until the gelatin dissolves.
Add the mayonnaise, lemon juice and tomato ketchup. The tomato ketchup is there to add a little flavour but mainly to add pink colour to the mousse. You don't want white mousse with bits of pink salmon in it.
Add salt and pepper to taste, remembering that the salmon may be salty so don't add too much salt.
Flake the hot smoked salmon.
Cut the cold smoke salmon into 1cm squares.
Fold both the salmons through the mousse. Try to not break the flaked salmon up so that there is still some texture in the mousse.
Check the seasoning and adjust if needed.
Fill a 2 cup jelly mould, or a fish mould if you have one, and refrigerate for 2 hours or until the gelatin sets.
Make a bed of shredded lettuce on a large platter.
Turn the mould out on to the lettuce. I had to line my mould with clingfilm because it rusted sightly, which makes it easier to remove from the mould but you lose some detail.You may need to briefly dunk the mould into hot water. Don't be tempted to leave it sitting in hot water. The gelatin will soften very quickly.
Thinly slice a cucumber and use it to garnish around the base of the turned out mousse.
Finely chop some dill and scatter over the top of the mousse.
Cut the lemon into wedges and serve around the mousse.
Serve with crusty bread as a light lunch or reduce the gelatin to 5g and serve with crackers as a dip. This is an excellent buffet table dish too.
==================================.
To serve this as a starter, instead of filling a ring mould or other mould:
Line a 6-muffin muffin tray with circles of waxed paper.
Put a slice of cold smoked salmon on top of each circle.
Add 1/3 cup of mousse to each muffin cup.
Refrigerate for 1 hour.
Plate up individual servings of mousse by dressing the plate with lettuce, turning out a salmon mousse (and remove the wax paper), garnish with dill on top and cucumber and a lemon wedge on the side.
==================================.
Cooking for a large crowd:
Scale up the recipe and pour into a large roasting tin and put in the fridge to set. Cut into squares with a knife dipped in hot water. Remove slices with a spatula or fish slice. Serve top side up with the same garnish as above.
get the genius kitchen app.
Watch on your iPhone, iPad, Apple TV, Roku, or Fire TV.
Learn More