"When I was a student nurse, we had 2 Korean doctors, a husband and wife, doing their internships at our hospital. They were very kind and friendly to us, and invited us to their apartment on occasion. This was a wonderful treat we were served. Dr. Kim simply called it, egg roll. When I came home from school on vacations, I introduced my parents to this. My father would request it every time I came. In Daddy's later years, he still would ask me to fix it when I went to visit, or he came here. I am posting it here by request of my son, who also has fond memories of it. I fixed it for my husband, my son, and myself this morning. It is a scrambled egg dish. I hesitate to call this dish Korean, because I don't know. Dr. Kim was."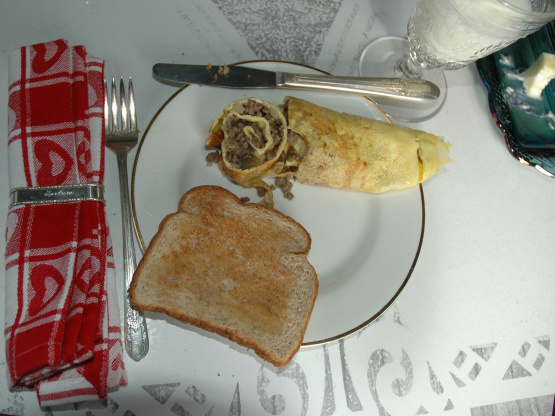 Dr. Kim's Egg Roll
7 recipe photos
Directions
Sauté beef, onions, and pepper until crumbly.
Season with salt and pepper and set aside to drain.
Put butter in omelet pan or skillet with heat on medium high and wait for butter to sizzle.
Pour beaten egg into pan, tilting to cover entire bottom of pan, and turn heat to medium low.
Sprinkle meat mixture on egg as it begins to set.
When egg is firm enough, roll gently, as in jelly roll, browning lightly on the bottom as you roll it.
When egg roll is done, turn out onto serving platter, and cut into pinwheel sections.
get the genius kitchen app.
Watch on your iPhone, iPad, Apple TV, Roku, or Fire TV.
Learn More