"A fun recipe from an old Sunset Chinese Cooking Book. It's easy to make and allows you to create your own fortunes!"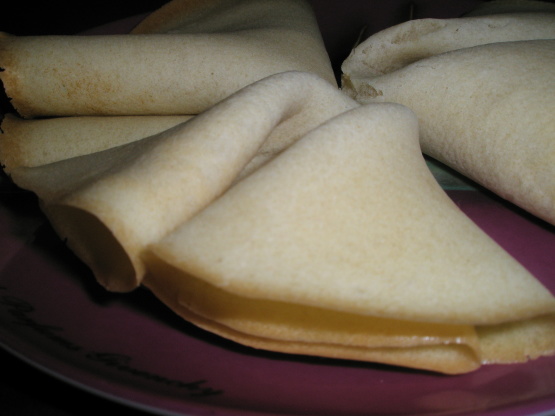 Dragon Sized Fortune Cookies
1 recipe photo
Directions
Write 3 fortunes on 1" x 3" pieces of paper.
You can use wise or funny sayings, puns -- personalized for the intended recipients.
Place fortunes and 2 pot holders near the oven so they'll be handy when needed.
Preheat oven to 300 F.
In a bowl, combine the flour, cornstarch, sugar and salt.
Blend in the vegetable oil.
Add the egg whites, water and vanilla.
Stir until smooth.
Bake cookies 1 at a time. (IMPORTANT).
Drop 1/3 cup of batter on a greased cookie sheet.
Spread evenly into a 10" circle.
Bake in oven until cookie turns a light golden brown (about 13 to 15 minutes).
Immediately place a fortune in the centre of the hot, pliable cookie.
Using the pot holders to protect your hands, bring two opposite ends of the cookie together, grasp the ends of the folded cookie and gently pull together to crease.
Hold the folded cookie for 1 minute to maintain its shape as it cools and becomes crisp.
Please Note: The oven temperature is extremely important. If the temperature raises above 300 F, the edges of the cookie will become overly brown and will crack when you try to fold it.
When the cookies have cooled completely, store in an airtight container.