"Courtesey of "The Splendid Table" cook book. DELICIOUS!! but very complex and time consuming. I'm posting the recipe as is but have used some substitutions in the past. I found you will need a few extra egg whites for the meringues. Also i substitute cooking sherry for the Mersala when it's not handy and have used almonds in place of the hazelnuts. The chocolate buttercream can be made up to 5 days ahead and both the meringues and zabaione cream can be made one day in advance. Good luck and good eating!"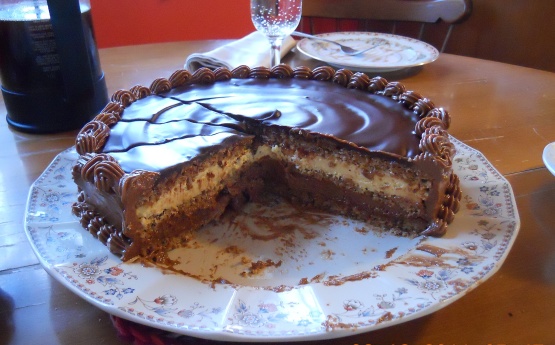 Duchess of Parma Torte
1 recipe photo
Directions
Chocolate Buttercream:.
In an electric mixer bowl, combine egg yolks, sugar, coffee and rum.
Remove from mixer and wisk by hand over pan of boiling water. Use candy thermometer and stop wisking when it reads between 160 and 165 degrees Farenheit and is a thick custard. Do not immerse the bowl in the water.
Place the bowl back on the mixer and beat on a high speed until cool (about 8 to 10 minutes). The mixture should be thickened.
Add the melted chocolates
Beat in the butter 1 tablespoon at a time, scraping sides occasionally. The buttercream should be silken and fluffy. If too soft, refridgerate 20 minutes and beat again to fluff it up. If you are making the buttercream ahead of time, cover and refridgerate.
Meringues:.
Butter and flour three 9-inch round cake pans. Cut circles of parchment paper and fit them to the pans.
Preheat oven to 350 degrees.
Grind nuts and half the sugar and all the flour in a food processor. The nuts should be very fine but not turned to nut butter.
Beat egg whites and cream of tartar until peaks are stiff.
Fold nuts into meringue, keeping the meringue light.
Spread mixture into pans.
Bake for 22 minutes or until golden brown.They should be almost hard but still springy.
Let meringues cool completley.
Run a knife around edges and very carefully remove from pans.
Trim any ragged edges.
Leave in a cool, dry place until ready to assemble.
Zabaione Buttercream:.
In an electric mixer, mix egg yolks, marsala, sugar and rum.
Remove from mixer and wisk by hand over boiling water until candy thermometer reads between 160 and 165 degrees farenheit. Should be a thick custard.
Return to mixer and beat on high for eight to ten minutes or until cool and thick.
Add 9 tablespoons of butter one tablespoon at a time and beat until each addition is smooth.
Add last 3 tablespoons at once and beat until smooth and thick. If it's not thick enough, chill for 20 minutes and beat again.
If made ahead of time, cover and refrigerate.
Glaze:.
Combine all ingrediends in small bowl and set over boiling water or a double boiler.
Stir until smooth.
Set aside.
Assembling the Torte:.
Use paper towls to protect the edges of a flat round cake plate.
Dab about a tablespoon of chocolate buttercream in the middle to hold the torte in place.
Place one meringue layer in center of plate.
Spread chocolate buttercream about 3/4 inch thick, making the it a little thicker around the edges.
Set second meringue layer upside down ontop of first.
Spread all zabaione buttercream on the meringue, making it a little thicker around the edges.
Top with last meringue, again, upside down.
Firm the torte in the refridgerator for 30 minutes.
Spread thin layer of chocolate buttercream along sides and top of torte.
Pipe an undulating border around outer edge of top layer,.
Refridgerate at least one hour before glazing.
About one hour before serving, spoon glaze over top and spread so it reaches the buttercream border. Avoid refridgerating if possible. It will dim the glazes sheen.