"I wasn't quite sure what to call this, because while it is sort of a fruit salad, there's too much "liquid" in here to call that part the "dressing". This recipe has basically 4 components: yogurt, nut butter, sweetener, and fruit. The yogurt adds tartness, the nut butter adds richness and protein, and the sweetener... well, sweetens! Feel free to experiment with different fruits, yogurts, nut butters and sweeteners, and see what flavour appeals to you the most! With 8 grams of protein, this bowl-'o-nutrition is a great way to kickstart your day!"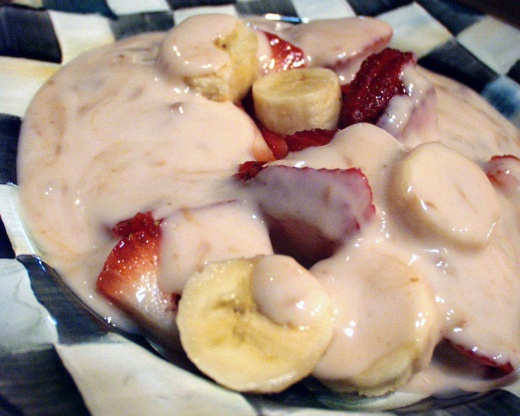 Easiest Protein Fruit Breakfast Bowl
2 recipe photos
Directions
Blend the yogurt, nut butter and syrup together using an immersion blender or even by hand.
If you do it by hand, place the nut butter in a bowl and whisk rapidly, first gradually adding the yogurt and whisking until incorporated, and then stirring in the syrup.
With a blender, well, we all know how to do that!
Placed the chopped fruit in another bowl and pour the dressing over it.
Mix well and refrigerate overnight, or until ready to serve.
In the morning, grab this bowl from the fridge, grab a large spoon and dig in!