"BEST PREPARED THE DAY BEFORE COOKING!!! I'll explain in the instructions. A few years ago I was living in a loveless "Agrestic" style town (google Agrestic if you aren't sure what I mean) where there was one pizza place and it was awful. It was akin to one of those international pizza chains but had a gourmet sounding name so they charged a shed load more. Being from Melbourne I grew up with good food, especially good pizza so I sought to remedy the situation myself. I'll let you decide how to top it though I might suggest using caramelised red onion & capsicum, quality salami, feta cheese, kalamata olives and a Napoli sauce on the base. Whatever you use, just remember to use the freshest available ingredients and never skimp on quality."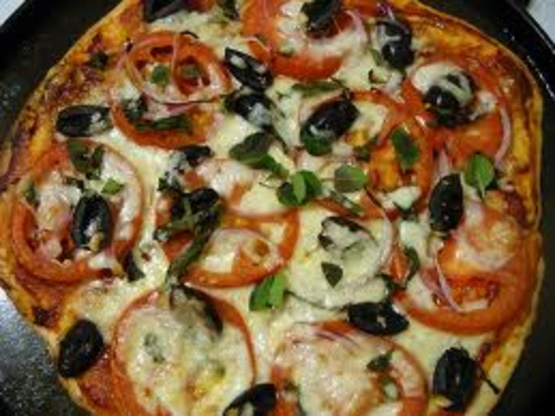 Easy and Awesome Pizza Base Recipe
1 recipe photo
READY IN:

20mins

YIELD:

3-4

13

UNITS:

US
Directions
Dissolve the yeast and sugar in the warm water and leave for 5 minutes.
While waiting, sift the flour into your mixing bowl. Add the salt & oil.
Once a foam has formed on the yeasty water pour it in and start mixing. Add more water as required (varies depending on climate, humidity etc.) until the dough feels like a young woman's breast. I was taught this by a baker many years ago and while it sounds rude, it really is the easiest way to describe how a good dough should feel. Now clean your mixing bowl.
This next part, while not vital, does make a noticeable difference. Rub oil around the surface of the dough, put it in your clean mixing bowl and stick it in the fridge. Leave it there for as long as possible (24 hours is best but 6 hours is ok). If you don't have time for the fridge don't stress - just skip it and move on.
If you used the fridge you will have noticed your dough rose, albeit slowly. Take your dough out of the fridge and let it rise some more.
Once risen pound the crap out of it to flatten it again but don't knead it too much. Cut your dough into 3 or 4 balls, roll them flat, fold them up and roll them again. This creates air pockets which expand giving your base the authentic 5 star Italian wood-fired look and feel in the comfort of your own home. If the dough begins to feel tough while you're working it, let it rest for 5 minutes. It's just the gluten tightening up and resting it relaxes it.
Top your bases and cook for 10 minutes or so. If you make thicker bases it often pays to partly cook the base for 5 min then top and bake again.
Enjoy!