Want more from Genius Kitchen?
Watch on your Apple TV, Roku, or Fire TV and your iOS, Fire, or Android device.
Learn More
"As versatile as it easy nutritious and simple! Great to eat on its own, as a pizza topping, or in a burrito when hot, and can be cooled for sandwiches, so this is really convenient to make for just 1 or 2 people and have leftover to use for sandwiches (cheaper than storebought faux-meat products.) For added convenience, you can marinate ahead of time if you want. This is open for adding any kinds of herbs and spices you like but you just can't go wrong with the simplicity of salt and pepper, plus I think the olive oil and soy sauce give a simply pleasant flavor. Can also use tamari or Braggs instead of soy sauce, the latter is just what I always have on hand. Some nutritional yeast would also add vitamins and a pleasant cheezy flavor. If nuked right, I can get about 8-9 nice thick "cutlets" :) Prep and cook times are estimated but relative to other cooked tofu recipes it is quick and easy."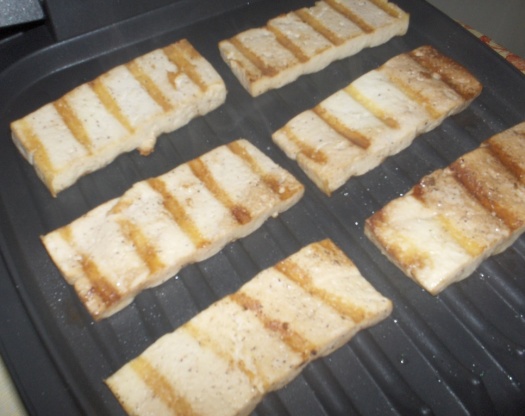 Easy-As-1-2-3 Versatile Grilled Tofu Chunks or Sandwich Slices
1 recipe photo
Directions
In a small bowl, make the marinade by mixing the oil and soy sauce together with the salt and pepper, and/or extras if you like-- such as fresh herbs, Season-All, some nutritional yeast, a zesty spice like Ras El Hanout, you name it.
or a different liquid like vinegars or tahini. Some marinade ideas-2TB olive oil + 1TB tahini + 1 tsp cumin for a Middle Eastern flavor, 2TB olive oil + 1 TB soy sauce + 1 tsp white vinegar + 1 tsp lemon pepper for a "faux fish" flavor, 2TB olive oil + 1TB soy sauce + 1 tsp taco seasoning + 1/2 tsp nutritional yeast for a Mexican flavor, 2TB olive oil + 1TB balsamic vinegar + 1 tsp oregano + 1/2 tsp ground rosemary for an Italian flavor, 2TB olive oil + 1TB soy sauce + 1 tsp red wine vinegar + 2 tsp nutritional yeast + 1/2 tsp turmeric + 1/4 tsp cumin.
Ok, these next few steps in drying out the tofu are super-important and dependent on your microwave's strength-- I get about 8-9 slices if this nukes right, but they can get crumbly and fall to pieces if not left in long enough. (Still edible, but the "cutlet" form is easier to grill and make sandwiches with.).
First, you have to cut open the tofu packet and get ALL the liquid out while carefully making sure you don't tear up the tofu brick.
Place the brick on a microwave-safe dish and nuke in 30 or 45 second intervals on high until most of the water is out-- you'll see water come out on the sides between nukings. Blot it with a clean dish towel or some paper towels, and repeat this until little to no water comes out the sides-- but don't overcook!
Turning over the brick onto the opposite side and wiping up the water coming out of the bottom helps speed this up.
Cut into rectangles (or another shape if you like, I get about 8-9 rectangles this way.) Put the dried out tofu into a large tossing bowl. Pour on the marinade.
Toss well to coat. If you didn't nuke for long enough, it can crumble in this step. It's ok, will still be edible, you'll just have more and smaller pieces.
If you plan on cooking at a future point, put into an airtight container and refridgerate to grill at a later date.
If you want to cook it now, let the marinade sit on the tofu for about 10-15 minutes. Tofu is very absorbent, all that great flavor soaks through this way.
Grill them! I wouldn't know how to do this on an outdoor grill, but I use a mini George Foreman grill that works perfect, about 5 minutes does it. You can also use a stovetop grill pan, about 5 minutes on each side.
For sandwich slices to eat cold--let the grilled tofu cool for about 20 minutes then wrap in plastic wrap or an airtight container and refridgerate.
Use your imagination in serving and enjoy!
get the genius kitchen app.
Watch on your iPhone, iPad, Apple TV, Android, Roku, or Fire TV.
Learn More