"Recipes for use in the Easy Bake Oven."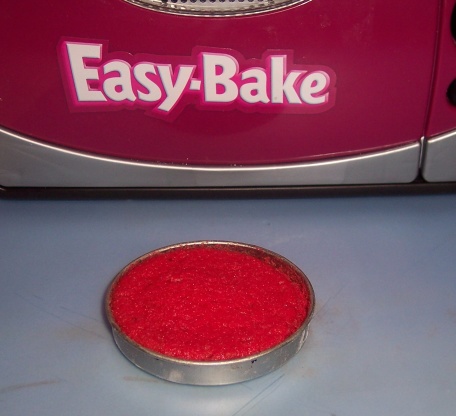 Easy Bake Oven Tropical Punch Cake Mix
1 recipe photo
Directions
In a medium bowl, combine sugar, flour, baking soda, salt and drink powder. Stir with a wire whisk until blended. With a pastry blender, cut in shortening until evenly distributed and mixture resembles corn meal.
Spoon about 1/3 cup mixture into each of 10 small containers or ziploc bags. Seal bags tightly. Label with date and contents.
Store in a cool dry place. Use within 12 weeks.
Makes 10 packages Cake Mix.
----------------------------.
TO USE:.
1 pkg. Children's Tropical Punch Cake Mix (above).
4 teaspoons water.
Preheat oven for 15 minutes.
Grease and flour a 4 inch miniature cake pan. In a small bowl, combine cake mix and water. Stir with a fork or spoon until blended and smooth.
Pour mixture into prepared pan. Bake 12 to 13 minutes in play oven. Remove from oven. Cool in pan on rack for 5 minutes. Invert cake onto a small plate. Remove pan.
When cool, frost with Children's White Frosting if desired.