"This is a fairly simple to make mayonnaise that tastes just like the expensive store-bought kinds. Made from simple household ingredients. Make when you are in a pinch or all the time like I do. I have listed the ingredients with the best choice first and a substitute following for best results use the first choices. There are other mayonnaise recipes on Zaar but I think this one is really worth a try. Note Mayonnaise cannot be made if a thunderstorm threatens, Ingredients should be at room temperature, but I have not had problems using cold eggs and lemons out of the fridge."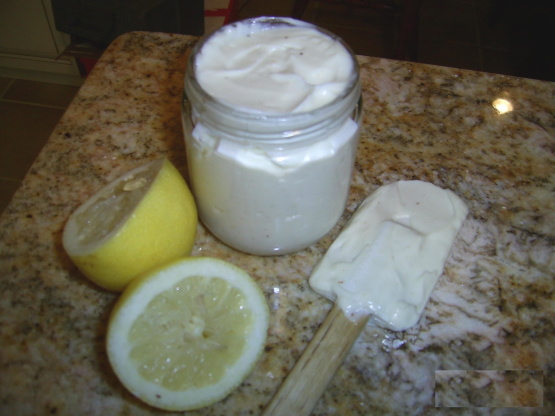 Easy Blender Mayonnaise
2 recipe photos
Directions
crack egg (discard shell), mustard powder, salt, sugar, cayenne pepper, and olive oil (or other oil) in a blender and blend on high until well combined.
remove cover or through the additions opening slowly add 1/2 cup of vegetable oil.
then add the juice of one lemon (or the vinegar).
once the mixture is well combined, slowly add the remaining 1/2 cup vegetable oil.
the mixture should be well mixed and thick. It will be thinner then you find it at the store but it will thicken further when it is cooled in the fridge.
Store in the refrigerator in a clean jar.
Keeps for about one week.