"Taken from one of the Sunday paper advertisements.. Looks very kid friendly."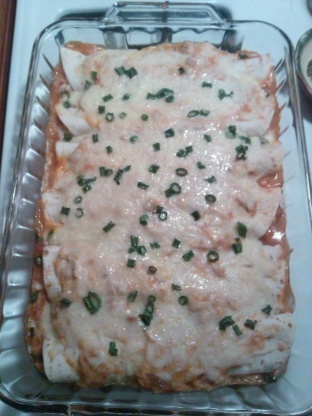 Easy Cheesy Chicken Enchiladas
1 recipe photo
Directions
Heat oven to 350 degrees.
In a medium bowl, stir together soup, and enchilada sauce, and spread 1 cup of this in a ungreased 11x7 inch baking dish.
In a large bowl, mix 1 cup soup mixture with chicken, and 1 cup of the cheese, reserving the remaining soup mixture.
On a microwavable plate, stack tortillas, and cover with a paper towel, heat on high for 1 minute to soften.
Place 1/4 cup chicken mixture along the middle of each tortilla.
Roll up and place seam sides down in baking dish with sauce.
Pour remaining soup mixture over enchiladas, and sprinkle with remaining 1 cup cheese.
Sprinkle green onion on top.
bake for 30 minutes or until cheese is melted, and sauce is bubbly around edges.