"A bit of work, but a fun dish to serve to company and is always praised for its taste! For best flavour, marinade overnight. You can also baste with your favourite barbecue sauce during grill time."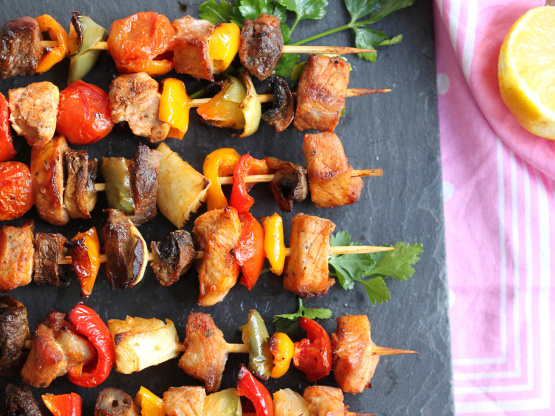 Easy Company Shish Kabob Dinner
7 recipe photos
500

g boneless chicken breasts

500

g round steaks

500

g pork loin (my kids are not big meat eaters and I will sometimes use sliced up smokies in addition to this meat)

assorted vegetables

yellow pepper

red pepper

onion (I occasionally use pineapple tidbits as well)

1

(16 ounce) bottle Catalina dressing

1

(16 ounce) bottle Italian salad dressing

bamboo skewer (approx. 32)
Directions
Cut meat into small bite size cubes and place in ziploc bags.
Pour Catalina dressing over meat and refrigerate overnight.
Cut vegetables into small bite-size pieces and place in a ziploc bag about 5-6 cups.
Pour the Italian dressing over vegetables and refrigerate overnight.
You can also soak the bamboo skewers overnight to prevent them from burning.
The next day, place meat and vegetables onto skewers, alternating colors for appeal.
Be sure sure to start and end with meat to prevent everything from slipping off during grilling.
I usually use 3-4 pieces of meat per skewer and lots of veggies.
Barbecue over medium heat for approx 10-15 minutes or until done.
Serve with your favorite salad and enjoy!