"This is a nice recipe to use if you are new to canning. I received this recipe at my bridal shower. I've tried lots of salsa recipes and this one is the one I always return to. I also like the fact that it uses basic ingredients... nothing too hard-to-find. You can use your favorite canning method for this. Following the instructions on the box of jars is always a good place to start. It looks like a lot of instructions below, but it really isnt- I just want to make it as easy as possible for a beginner."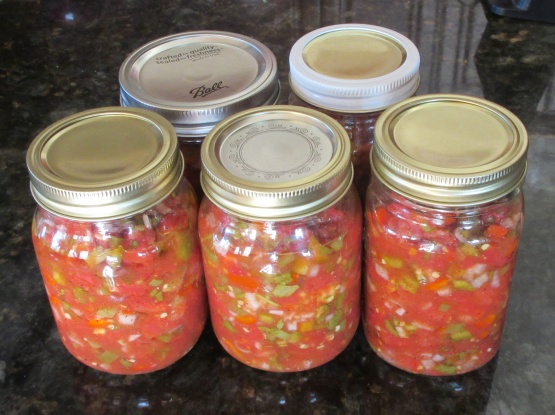 Easy Homemade Salsa for Canning
2 recipe photos
4

quarts tomatoes, thickly chopped

1

cup onion, chopped

1

cup green pepper, seeded and chopped

1

cup banana pepper, seeded and chopped (or you can double the green peppers, or use any other kind of sweet pepper)

1

cup jalapeno pepper, chopped (use 2 cups for hot)

1

cup vinegar

3

tablespoons canning salt (I use Morton brand canning and pickling salt)
1⁄4 cup sugar (use up to 1/2 cup if you like very sweet salsa)

2

tablespoons dried oregano

8

tablespoons cornstarch

8

tablespoons warm water
Directions
A note about peppers: Remember to use caution and always use gloves while handling. I always remove the seeds from mine before chopping but if you like hotter salsa feel free to leave them inches.
A note about tomatoes: you do not have to peel them, but most people prefer doing so. To quickly and easily peel them: give them a quick rinse to wash them off. Then drop them into a pot of boiling water for about a minute or until you see them crack and peeling. Remove with a slotted spoon into a large bowl of very cold ice water. Now you can easily remove the peel and the core. I usually put the chopped tomatoes into my 2 quart pitcher to measure the tomatoes.
To make salsa: Put all ingredients EXCEPT cornstarch and water into a large stock pot. Bring to a boil, stirring occasionally. Boil over low heat for 10 minutes.
Mix together the cornstarch and warm water in a small bowl. Make sure the mixture is very smooth- you dont want any corn starch chunks in your salsa.
Add the corn starch liquid to the big pot of salsa, stirring while pouring.
Boil on low for 10 minutes, watching carefully so that nothing sticks to the bottom of the pot.
Pour into prepared canning jars, leaving about 1" for head space. Seal according to your favorite method.