"I was so surprised when I went to check out if these were posted or not. I have made this with my older grandkids and before that with my own kids so I don't remember where I first got this...but give it a try***UPDATE***as you can see by the picture someone tried this recipe. To me, it was a failure, but not on the part of the cook. She was very nice about it, and even told me her family liked it. The problem was the instructions. It is important not to assume that all the ingredients are familiar. The instructions you see now are more concise. The cook offered to have the pictures removed,I said no, let them stand as an example...."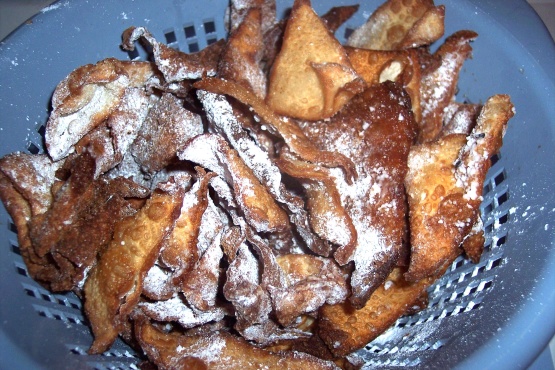 Easy-Peasy Sugar Butterflies
2 recipe photos
Directions
Heat oil to very hot in deep fryer or large pot.
Place skins on work area and keep covered with tea towel so they don't dry out.
Working one at a time, place skin down in a diamond pattern.
With a sharp knife, make a straight slit of about 1/2 inch(like a 1) in the center of skin.
Pick wonton up in left hand, take right tip with right hand and push down through slit. Reach behind slit with left hand gently holding tip. Take hold of left tip of diamond and pull to the right while pulling first tip at the same time. (reverse if you are a lefty).
The middle will be wrinkly. As each is done, place under a slightly moist tea towel so they don't dry out.
You can practice doing this first on a paper napkin. After doing a few, it becomes very easy.
Fry quickly in batches until golden brown.
Drain on brown paper bags.
Sprinkle with powdered sugar when just slightly warm. Another way is to put sugar in a paper bag, add four of five wontons, shake gently.
Remember to allow time to drain or sugar will get clumpy.
get the genius kitchen app.
Watch on your iPhone, iPad, Apple TV, Roku, or Fire TV.
Learn More