"Found this recipe in a Better Homes & Garden Holiday Baking Magazine. Tried them as they are easy and look as good as they taste. I doubled the recipe and glad I did as my family wolfed them up! I used splenda and splenda brown sugar for them. You use both sheets of the puff pastry."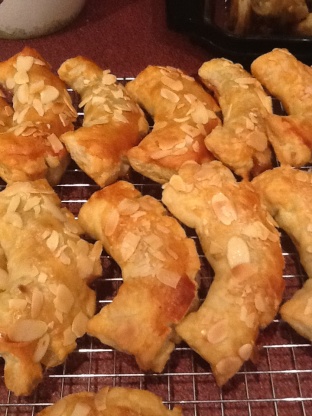 Easy Puffy Linzer Claws
1 recipe photo
Directions
Preheat oven to 375 degrees. Line a large baking sheet with parchment paper. In a bowl beat 1 egg white and almond paste with an electric mixer on medium speed until bombined well. Add granulated sugar, brown sugar, and vanilla; beat for 1 minute or until smoooth.
On a lightly floured surface unfold each sheet of pastry. Roll pastry into a 12 X 10 inch rectangle. Cut each rectangle into six 5 X 4 inch rectangles. Spoon 1 rounded tablespoon of the almond mixture onto each retangle, spreading slightly. Top each with 2 teaspoons of the jam. Moisten outside edge of pastry with water. Fold each rectangle in half lengthwise to make a 5 X 2 inch pastry; press edges well to seal.
Place pastries on the prepared baking sheet. Using a sharp knife or kitchen scissors, cut five 1/2 inch slits along the sealed outside. Curve each pastry slightly with the slits on the outside. Brush with 1 lightly beaten egg white and sprinkle with almonds.
Bake for 20 to 25 minutes or until golden. Cool on baking sheet on a wire rack. Enjoy!