"I came up with this recipe as a way to get my kids to eat spinach. Plus I love anything stuffed in dough! I used the refrigerated Pillsbury brand of dough. Feel free to increase or decrease the cheese amount. I tried to stay to a healthy serving size. I am sure other pizza type toppings would taste great inside this too! Please experiment and share your ideas!"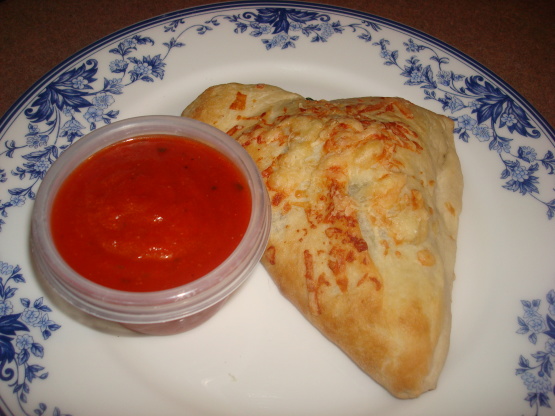 Easy Spinach & Mushroom Calazone
1 recipe photo
1

(13 ounce) package pizza dough

10

ounces frozen chopped spinach (thawed)
1⁄2

cup sliced mushrooms

1

tablespoon minced garlic

4

ounces cream cheese (I used 1/3 less fat variety)
1⁄2 cup grated parmesan cheese

salt & pepper, for taste (to season)

1 -2

tablespoon melted butter (for brushing on top of calazones) or 1 egg white (for brushing on top of calazones)

1

(8 ounce) jar marinara sauce (used to dipped calazones in!)
Directions
Heat thawed spinach in a skillet on medium heat. Add garlic, salt, and pepper-stir together. Add cream cheese and 1/4 cup of the parmesan cheese and stir until melted. Add sliced mushrooms and cook 5 minutes more. Remove from heat and let stand.
Grease a pizza/cookie sheet. Roll out the pizza dough from the pkg. Stretch the dough to just fit the cooking sheet. Cut the dough into 4 rectangles.
Divide Spinach mixture into 4 portions. Drop one portion onto each pizza dough rectangle. Take one corner of the dough and pull it to the opposite corner to enclose the spinach mixture. Pinch close to form a triangle. Brush tops with either melted butter or egg white. Sprinkle tops with remaining parmesan cheese.
Bake calazones for 15 minutes or until golden brown. Cool for 5 minutes before serving. Use marinara sauce as a side to dip your calazone in!