"A modified recipe from the vegetarian cookbook The New Laurel's Kitchen. There's room to vary the recipe to make it suit your tastes including of course Mexican-inspired. The original recipe called for soy beans, but I don't care too much for them so I've substituted pintos-usually; sometimes black beans or red beans. I think the two magic ingredients are the celery and the vinegar. Use for burritos, as a sandwich spread, in portabella mushroom burgers, bagel topping, chip dip, etc."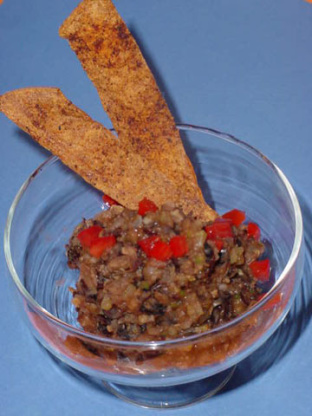 Easy Vegan Bean Spread
1 recipe photo
1⁄2 medium white onions or 1⁄2 medium yellow onion, minced

1

tablespoon olive oil

1 -2

garlic clove, minced

1

medium celery (with leaves, minced)
1⁄4 cup diced green bell pepper (or 1/2 jalapeno, diced for spicier version)

2

tablespoons tomato paste (I use ketchup or even BBQ sauce)
1⁄2 teaspoon italian seasoning (salt-free) or 1⁄2 teaspoon taco seasoning (salt-free)
1 1⁄2

cups beans, of your choice cooked and mashed

2

teaspoons white vinegar, to taste
1⁄4 teaspoon salt

Other Suggested Ingredients

shoyu
Directions
Begin by sauteing on medium heat the onion and garlic in the olive oil until soft.
Next add the celery and pepper if using and cook another 2 to 3 minutes.
Add the garlic, tomato paste, herbs of your choice. Simmer about 10 minutes. (*Alternately, you can add the beans into the pan with the celery, onion, tomato paste, etc. and simmer. Do not allow the beans to dry out, adding a bit of water or stock if necessary.).
Place the cooked, warmed beans into a serving bowl.
Add the sauce along with the vinegar, salt and pepper into the mashed beans and mix well. Bean mixture should be spreadable but not watery.
Adjust seasoning.