"I came up with this to help my kids want to eat better. If they "won" I would let them have dessert or a piece of candy. You could do whatever you wanted though and change the game to suit your family. I am sure it will have kinks to be worked out but this is what works for us. I made the things that they don't really like and have a hard time eating (veggies!) worth the most points. Sorry the pictures are a bit beat up. I should have posted this when I first made it. Card stock holds up better than construction paper. Sorry if the directions are a bit jumbled. I think that the picture does a better job explaining it! Prep time is cutting, cooking time is gluing and writing."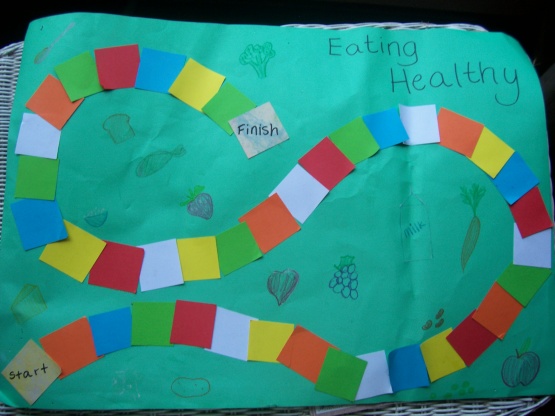 Eating Healthy Game
4 recipe photos
1

large paper, board (poster-any color)

8

different colors of card stock (or construction paper)

1

long paper, envelope (for each kid)
Directions
Decide on how you want the game "path" to go from start to finish.
Decide which color you will use for each food category ( ie. green for veggies, white for dairy, etc.).
Cut out ( for each kid) 5 rectangles for the veggies (all the same color) 4 for fruits, 6 for the grains, 3 for dairy, 3 for the meat, 4 for water, 1 for vitamins and 2 for Junk food.
Label each rectangle with the category and serving size ( Veggies-1/2 c.).
Serving sizes for a 1-3 year old:Grains-5 a day 1/2 slice or 1/4 cup, veggies-3-5 a day 1/4 c., Fruits-2-4 a day 1/4c., Dairy- 2-3 a day 1/2 c., Meat/eggs-2-3 a day 1 oz. or 1/4c.
Serving sizes for a 4-5 year old: Grains-1/2 slice or 1/3c., Veggies.-1/3c.,Fruits-1/3 c.,Dairy 3/4 c., Meat-1 1/2oz. or 1/3c.
Serving sizes for a 6-12 year old:Grains-1 slice or 1/2 c., Veggies.- 1/2 c., Fruit- 1/2 c., Dairy- 1 c., Meat-2 oz. or a 1/2 Celsius.
Water 4 cups a day.
Cut out 1 extra rectangle for each category. These are the game pieces. Label them with the food category that corresponds with the color. On the back you will write the points. I used move ahead 2 for grains,4 for veggies,2 for fruits, 3 for dairy, for meat,1 for water, 2 for vitamins and move back 1 for junk food.
The hard part is making sure that they have to eat well to win but making it so they don't lose all the time either. It has to be reasonable or they won't try at all.
Cut squares of each color of card stock. (how many will depend on how you will set up the game board). I used 30 I think. You will have to make sure that your point system allows them to reach the finish.
Glue the squares in a path on the poster board. Decorate the board as desired.
Seal each envelope and cut in in 1/2 width wise.
Label 1 1/2 with their name and put their cards inside(I put their initial in the corner to keep track).
Label the other 1/2 with name and I Ate --
To play: start new every morning. They get to put a card in their "I ate"pocket every time they finish a serving. After dinner they take a small toy or game piece and move it forward or backwards according to the game cards(ex. they take a card out of their "I ate" pocket and check the game cards to see how many spaces they move.) You could also just write the points on the backs of each card instead, but it will be more trouble to change if you realize your point system isn't working,.
Play and good luck!
get the genius kitchen app.
Watch on your iPhone, iPad, Apple TV, Roku, or Fire TV.
Learn More