"A totally delicious and traditional British cake - 1793 James Birch's shop on the corner of Vicarage Road in Eccles began selling small, flat, raisin-filled cakes. They sold, quite literally, like hot cakes! This is my Grandmother's recipe, which ,compared to the original, holds a more varied dried fruit. Best to double the recipe as you will never have enough to satisfy everyone."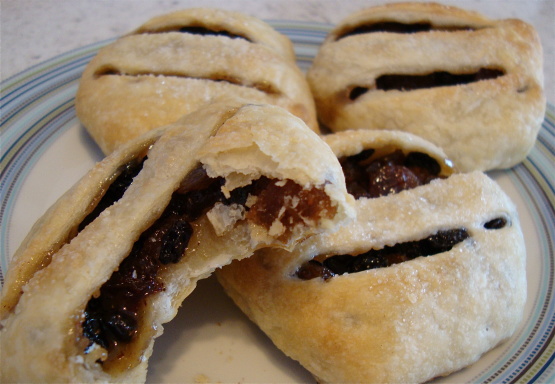 Eccles Cakes
4 recipe photos
Directions
Place currants, sultanas, white sugar, brown sugar, butter, water, marmalade, mixed spice,and golden syrup in a saucepan.
Gently bring to the boil, simmer for a minute, stirring constantly.
Set aside to cool.
Roll out the pastry; cut into squares about 4 inches square.
Place a heaped dessert spoon of the mixture in the middle.
Fold pastry over and gently flatten so that they are about half an inch thick.
Slash gently 2 or 3 times with a knife.
Bake on a lined tray in a hot oven for about 10 minutes until they are golden brown.