"Similar to Oatmeal Scotchies, these cookies take it to the next level! Amaretto, Butterscotch, Oats and More! There's all kinds of "garbage" in these fantastic cookies! The great things about garbage cookies are: You never know which ingredient will show up on your cookie. Sometimes you get chocolate chips, sometimes you don't. Sometimes you get dates AND raisins, sometimes only raisins. You can alter the recipe to your liking. You can put all kinds of "garbage" in your cookie dough!"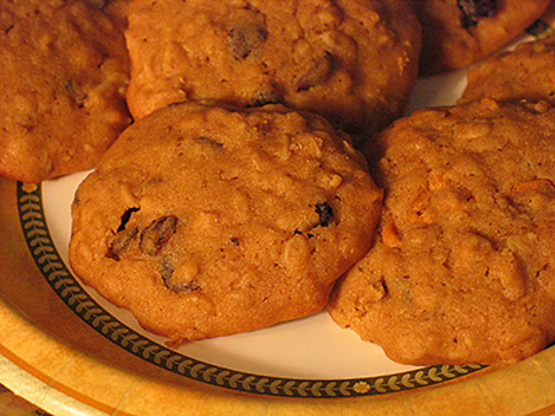 Ed's Chicago Garbage Cookies (Amaretto)
2 recipe photos
Directions
** SOAKING DATES AND RAISINS: For best results, soak the raisins and dates in the amaretto and water for 24 hours or up to a week or more in a glass or plastic container with an airtight lid. (Trust me. This is worth it!) .
HARDWARE: 2 cookie sheets (the 13 x 9 inch variety or larger), BAKING PARCHMENT! IT TOTALLY RULES!, A big 'ol wooden spoon. (a new spoon is also fine), An ice cream scoop or a really strong metal tablespoon (or both), A "REALLY BIG" GLASS or METAL BOWL (You can also use a KitchenAid-type mixer.).
DIRECTIONS- **IF YOU ADD EVERYTHING AT ONCE, IT WILL BE REALLY HARD TO MIX SO PLEASE USE THE INGREDIENT SEPARATIONS I'VE LISTED BELOW:
CREAM SOFTENED BUTTER AND COMBINE WITH BROWN SUGAR.
THEN ADD EGGS and vanilla extract.
MIX WELL, THEN ADD salt, baking soda, and slowly mix in the flour .
MIX THE DOUGH UNTIL EVERYTHING IS COMBINED,.
THEN ADD: maple syrup (a few squirts from the syrup bottle is fine), peanut butter, and slowly mix in the Rolled/Quick Oats.
MIX WELL, THEN FOLD IN (don't over mix) the RAISIN, DATE and AMARETTO/water* mixture.
(*only use water if you soaked the dates and raisins).
Add butterscotch and semi-sweet chocolate chips.
Refrigerate the dough for at least an hour.
MAKES ABOUT 3 QUARTS OF COOKIE DOUGH.
ARE YOU READY TO BAKE COOKIES?.
PREHEAT THE OVEN TO 350 °F. (use an oven thermometer in your oven to make sure your oven is at 350).
Line your cookie sheet with the baking parchment. TRUST ME, YOU WANT TO USE BAKING PARCHMENT. NO GREASING NECESSARY (if you don't have parchment paper, you can do the greasing thing on your cookie sheet).
With a good metal tablespoon or icecream scoop, Scoop out golfball size balls of dough and place them about an inch and a half apart or more on the sheet. You can fit about 9-12 cookies on each sheet.
Keep the unused dough cold until you're ready to use it. (the warmer the dough is, the more it will spread out).
If you're waiting for the first batch to bake, refrigerate the unused dough. You'll be much happier with the results.
Bake 18 to 20 minutes for soft, 22-24 minutes for crispy. (times are approximate).
Perfect cookies are light golden brown and just barely golden brown around the edges.
** ALL OVENS ARE DIFFERENT! WATCH YOUR COOKIES! **.
DO NOT LEAVE THE KITCHEN! DO NOT LEAVE THE HOUSE!
DO NOT LEAVE ON VACATION WHILE THESE ARE BAKING!
** VERY IMPORTANT! : AFTER BAKING, SLIDE THE PARCHMENT FULL OF COOKIES OFF THE PAN VERY GENTLY ONTO A COOLING RACK OR TABLE, COUNTER TOP, ETC.
*DO NOT TAKE COOKIES OFF THE PARCHMENT until they set up!*. The soft cookies will be VERY FRAGILE right out of the oven, so wait about 3-5 minutes before removing them from the parchment.
After they cool a bit, they will slide right off the parchment paper. When the cookies are done, keep them in an airtight container or ziploc bag.
DON'T EAT THEM ALL! SAVE SOME FOR ME!
get the genius kitchen app.
Watch on your iPhone, iPad, Apple TV, Roku, or Fire TV.
Learn More