"This is my husband's recipe and it has withstood the test of time. These delicious cookies are light & airy and fun to decorate. My husband is the Sugar Cookie king in our family and our grown kids still anxiously ask each year if Dad is making sugar cookies this Christmas :). Ed prefers using insulated cookie sheets. Yield and baking time may vary, depending on rolled dough thickness, the size of the cookie cutters and oven accuracy. NOTE: Chilling time is included in prep time. Overnight refrigeration is best, but if you are in a hurry, you can get by with chilling the dough for at least two hours. Do not skip the chilling step or the cookies may not hold their shape."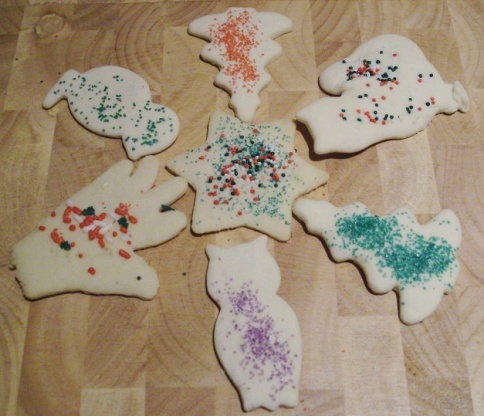 Ed's Sugar Cookies
3 recipe photos
Directions
In large mixing bowl, cream butter and shortening until thoroughly mixed, about one minute.
Beat in eggs and vanilla.
In a separate bowl, sift/whisk together flour, sugar, baking powder and salt.
Add dry mixture to creamed mixture a cup at a time; mix until well combined (mixture will be stiff).
Cover and chill dough overnight. Caution, you may have to fend off kids who will snitch dough to eat when you are not looking!
WHEN READY TO BAKE: Preheat oven to 375ºF.
Lightly dust your work area & rolling pin with flour.
Lightly grease cookie sheet(s) with Crisco.
Roll out dough to approximately 1/4" thick. For simple shapes, Ed rolls his dough a bit thinner.
Use cookie cutters to cut out shaped cookies. If you do not have cookie cutters, an inverted glass will cut a nice round cookie if you flour the edge first.
Place cookies about one inch apart on greased cookie sheet(s).
If desired, sprinkle cookies with colored sugar.
Bake in 375ºF oven for 6-8 minutes or until edges just brown. Watch your first batch carefully so that you know how many minutes works for you.
Transfer cookies to wire racks to cool.
NOTE: Any scrap dough may be rerolled and cut, although if the dough becomes warm from handling, it may need to be re-refrigerated for 15 minutes.