"I haven't tried this yet, but wanted to save it. Taken from the Relish food magazine and created by Greg Johnson, a Seattle-based chef, he "came up with this recipe as a way to get eggs into a nice package". I'm thinking some crumbled bacon would be a tasty addtion!"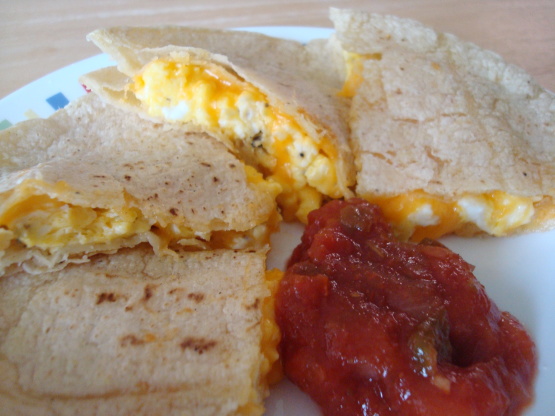 Directions
Heat a nonstick saute pan, big enough to fit tortillas, over medium-low heat. Add oil. Add eggs, breaking yolks. (Add salt and/or pepper to taste.).
Cook until eggs are set enough to flip, about 2 minutes. Flip; cook until eggs are done, about 2 more minutes. Transfer to a plate and wipe out pan.
Return pan to heat and increase heat to medium. Place one tortilla in pan. Sprinkle on half the cheese.
Place cooked eggs over cheese. Top with remaining cheese and tortilla.
Cook until bottom tortilla is a little brown and cheese starts to melt, about 1 to 2 minutes.
Flip with a spatula and brown the other side. Remove from pan. Transfer to cutting board to cool one minute. Then slice into wedges.
Serve with salsa and and diced avocado, if desired.