"
How to Boil Eggs
and a food processor makes this recipe an easy fix for a crowd. Though most kids like this it is definately something the Low Carbing adults will love too. **Please note that the reviewer of
How to Boil Eggs
did not actually review hard cooked eggs but rather posted a recipe for hard boiled eggs."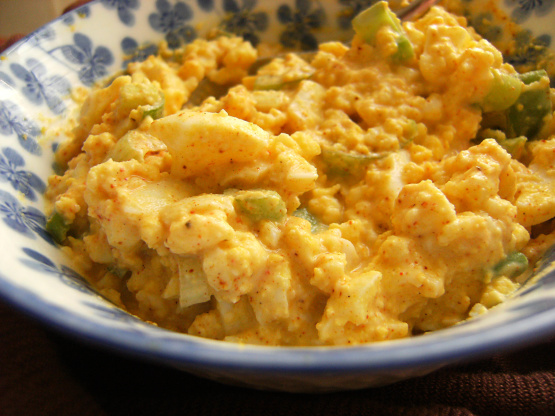 Eggceptionally Low Carb Easy Egg Salad for a Crowd
3 recipe photos
Directions
Peel the eggs and rinse them off, drying on paper towels.
Shred them with the medium shredding disk of your food processor.
Mix remaining ingredients together well and stir into the eggs, chill and serve on different breads, stuffed into celery, etc.
OPTIONAL add ins:.
1/4 cup finely shredded scallions.
1 teaspoon celery seeds.
1/4 cup finely minced celery.
serve in a hollowed out bread bowl or on a lettuce leaf or tortilla.