"Everyone's mom has made these at one time or another. Fun presentation for a sleep-over breakfast!"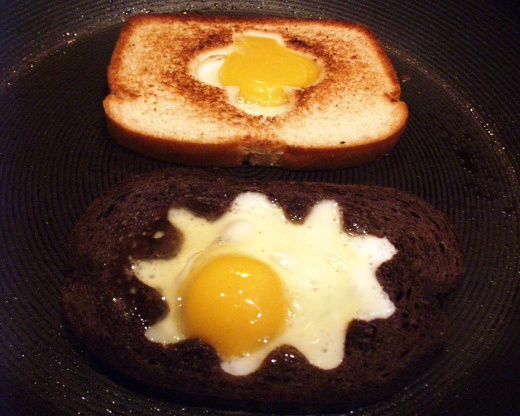 Eggs Lookin' at You!
1 recipe photo
Directions
Melt butter in LARGE frying pan over medium heat.
To one side of the pan, fry bacon slices (or in a separate pan).
Using a small, round cookie cutter, remove the center of the bread.
Lay bread slices in pan; lay "holes" to the side; fry for 1 minute, then flip to other side.
Immediately crack eggs, gently tucking into the hole (one egg per toast slice).
Turn heat down a smidgen to give eggs a chance to firm up.
Eggs can be flipped again if the eater wants them "hard" or leave sunny-side up if a runnier egg is desired.
SERVE: Place egg/toasts on plate, smear "holes" with a dab of jam or honey, lay to the side, add the bacon and holler: "Breakfast is served!".
IDEAS: Use an herb-butter for frying, to add a different flavor.
IDEA #2: Use cookie cutters with unusual shapes: flowers, stars, snowmen, snowflakes!