"I found a cooking buddy who is known for her bagels. We can't find bagels in Uruguay. I think they are better than bagels I can buy at home. They are simple and rewarding to make, but there are a lot of steps. I've tried to be as clear as possible, I recommend reading the directions all the way through first."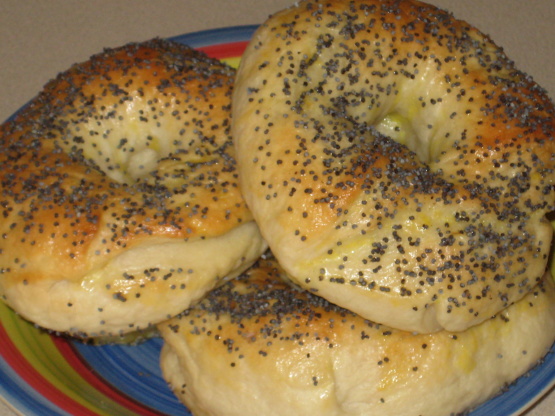 Emily's Rockin Bagels
6 recipe photos
READY IN:

3hrs

SERVES:

12

UNITS:

US
Directions
In a bowl add 2 tablespoons of yeast, 1 tablespoon of sugar and 1 1/2 cups of warm water.
Stir mixture to help mix any clumps of yeast.
Let mixture foam, about 10 minutes.
Stir 4 cups flour and 1 tablespoon of salt gradually into yeast mixture. Mix until mixture becomes one large ball of dough.
Kneed on lightly floured surface until dough has the constancy of a baby's bottom when you press a few fingers into it (I though this sounded odd, but it's the best way to describe the consistency).
Place dough in bowl at least twice it's size, cover the bowl with a tea towel and place someplace warm or without a draft.
Let dough rise until doubled, about 1 hour.
Fill a large pot with water to boil (stock pot). Add 2 T sugar and 1 T salt to water.
Punch down dough and form into a long narrow piece of dough (maybe 15x5 inches).
Cut dough into 12 pieces.
Take dough in palm of hand and roll on counter or with other hand to form a ball, poke finger through ball of dough and twirl on finger until you have something that looks like a donut. I like to make my centers of bagels large to ensure there will be a hole after cooking.
After forming all 12 bagels into donut like shapes, cover with a tea towel and let sit and rise for about 15 minutes.
Place as many bagels in the pot of boiling water as you can, mine held 6. But make sure each bagel has enough room so they don't touch.
Turn bagels over while boiling to ensure even cooking. Cook for about 2-4 minutes.
Remove bagels from water and place on lined or sprayed cookie sheet, they won't spread much so leaving about 2 inches between each should be enough. Repeat process until all bagels are cooked.
whisk an egg and pinch of salt together in a bowl (the salt helps break up the egg and makes it easier to brush).
Brush egg wash on the tops of each bagel.
Bake for about 15 min at 450°F.
Keep a close eye on bagels, cooking time varies. Cook until browned on top.
Variations:.
Sprinkle on top sesame seeds, poppy seeds, garlic, onion, salt -- whatever your heart desires.
You can also add goodies to your dough during the kneading process. I added sautéed onion and poppy seeds. The bagel turned out a little more flat, but was still very good!