"This recipe originally came from a KitchenAid cookbook that came with the standard mixer around the late 1980's to early 1990's. It is so fast to make and so delicious. I have made mini pizzas with these after toasting them and piling on my favorite toppings and then running them under the broiler. Or just toasted in the morning with my coffee. This is one of my 'keepers'."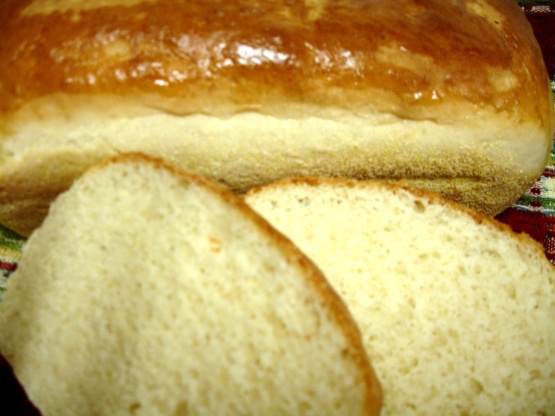 English Muffin Loaves
2 recipe photos
Directions
Combine milk and water in small saucepan. Heat over low heat until liquids are very warm (120 - 130 degrees F.).
Place 4 cups flour, yeast, sugar, salt and baking soda in bowl. Attach bowl and dough hook. Turn to speed 2 and mix 1 minute.
Gradually add warm lquids to flour mixture. Mix about 1 1/2 minutes longer.
Continuing on speed 2, add remaining flour, 1/2 cup at a time. Knead on speed 2 for 3-5 minutes longer. Dough will be very sticky.
Spread dough into two 8 1/2 x 4 1/2 x 2 1/2 inch loaf pans that have been greased and sprinkled with cornmeal. Cover and let rise in warm place, free from drafts for 45 minutes.
Bake at 400 degrees, for 25 minutes or until golden brown. Remove from pans immediately and cool on wire racks.