"Aspic is one of the oldest dishes in European cooking. Unfortunately, in recent years it has come to be associated with cloudy, limp, congealed tomato salad. This recipe recaptures the rich beef taste, gemstone-clear appearance, and sensual melt-in-the-mouth texture of the classic french aspic, with a modern asian fusion flavor. Aspic is not a quick and easy dish, but it can be a stunner to impress at a dinner party, or to remind your family how special they are. (Some traditional ingredients can be difficult to find in a modern supermarket; please see notes on substitutions at the end of the recipe instructions.)"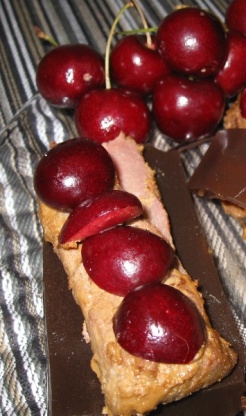 Espresso Ruby Satay
2 recipe photos
READY IN:

28hrs

SERVES:

4

UNITS:

US
ASPIC

1

tablespoon olive oil
1 1⁄2

lbs beef neck bone, with meat, fat trimmed

1

onion, medium, white, quartered

4

cloves

1

carrot, medium, quartered

1

bay leaf
1⁄2 teaspoon thyme, dried

1

tablespoon soy sauce
1⁄2 teaspoon red pepper flakes

4

ounces espresso (or very strong coffee)

2

cups water
1 1⁄2 cups sweet cherries, coarsely chopped (fresh or thawed frozen)

1

egg white

1⁄4 ounce gelatin powder (1 envelope)

SATAY

1

lb boneless beef top loin steak, cut into thin strips
butter, melted

1

cup natural-style peanut butter

1⁄2 teaspoon red pepper flakes

2

tablespoons soy sauce

2

tablespoons olive oil

1

cup sweet cherries, sliced
Directions
In a medium saucepan, heat oil.
Add neck bones, and brown on each side.
Add onion, carrot, garlic, and herbs, along with coffee and water.
Bring just to a boil, then reduce heat to a very low simmer for 3 hours. (There should not be any bubbles or froth, just a rippling of the surface.).
Add cherries and simmer another half hour. Remove bones and vegetables, and pour through a coarse strainer into a quart jar. (Don't try to re-use the meat on the bones in this dish. It's flavor has been stewed out.).
Refrigerate overnight, and remove congealed fat from the surface. (Take your time and make sure you get it all.).
Return stock to a saucepan, and heat to a very low simmer.
Lightly whisk egg white into the stock. Cook about 5 minutes, until the white is congealed.
Filter through cheesecloth to remove egg white and other solids, leaving a very clear liquid. (If the stock is still cloudy, repeat the steps of warming, whisking in an egg white, and straining.) Pour liquid into a heatproof bowl or casserole.
Sprinkle with gelatin, and heat on the stove to a very low simmer. As soon as the gelatin is dissolved, refrigerate. This will result in a very firm aspic, which will hold its shape and not start to melt at room temperatur.
For the satay sauce, mix peanut butter, olive oil, pepper, and soy sauce in a small saucepan over medium heat (just to melt, not to cook).
Very lightly grill beef strips. Brush lightly with melted butter if needed.
The meat should be barely done, not over-cooked or tough.
Lightly coat beef in the satay sauce, and refrigerate about an hour, to cool. Chill the serving plates.
Slice aspic. The slices should be roughly the same shape as the beef strips,and about twice as thick.
Assemble the dish by placing a slice of beef, with sauce, layering it with cherry slices, then covering with a slice of aspic. Garnish with cherries if desired.
Ingredient Notes:.
Traditionally, aspic is made with beef shank bones, which contain more collagen than neck bones. If these are available, substitute closely trimmed shanks with meat pound for pound. Have the butcher split the bones. Tail bones can also be substituted, if neck bones are not available.
Three-fourths cup pure (unsweetened) cherry juice can be substituted for the whole cherries in the stock. This recipe was designed to be non-alcoholic, but if that's not important, you can also substitute burgundy for the cherries in the stock.